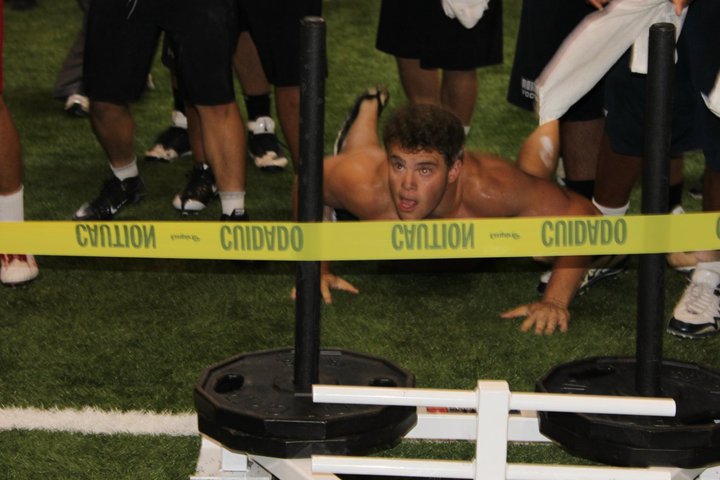 Pat Cole provided a "Hollywood ending" to an awe-inspiring week!
I have to be honest. I've been sitting behind my computer for three straight hours, trying to write my recap of this years World's Strongest Athlete Contest & Charity Dinner, but I just can't do it. There is no way I can capture everything that's gone down during the past 5 days; I'd literally have to spend about a week straight in front of the computer. So what I've decided to do is provide my readers with one of my "Behind the Scenes" features.
So for those of you who didn't attend our VIP Charity Dinner or our World's Strongest Athlete Contest this year; you're now a "fly on the wall". Here are some random highlights from this past weeks events…
To raise more money for the National Multiple Sclerosis Society this year, we added a VIP Charity Dinner at the Brownstone three days before our World's Strongest Athlete Contest. Words cannot describe what an incredible evening it was. Two hundred of our closest friends, family members, clients and sponsors came together to help us raise awareness – and money – for Multiple Sclerosis research!
Although I was going to keep this private; I've decided to share my opening speech at the VIP dinner with the world. Hopefully this helps raise more awareness to the MS SOCIETY & people living with MS…
One of the things that made the Charity dinner very special was the support we received from my NFL clients. ALL 8 NFL players that are staying in NJ right now to train with me, showed up and contributed to the charity! Auctioning off Dave Diehl's Pro Bowl Jersey & Brian Cushing's jersey's alone raised $3000 for the charity!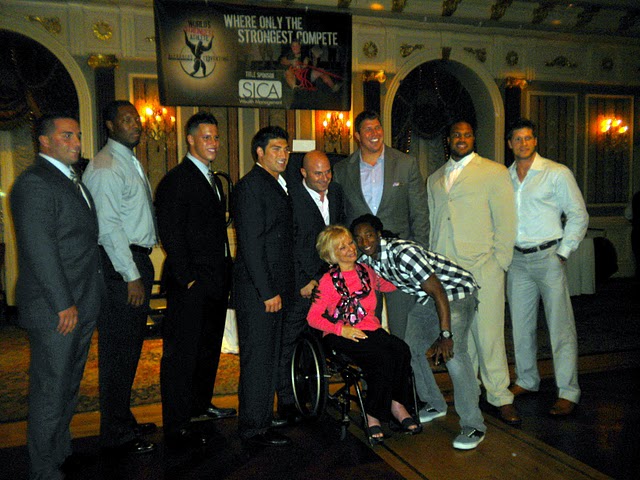 The NFL crew gets a pic with the STRONGEST person in the room
In the photo (standing, from left to right): Anthony Cotrone (formerly w/ Jacksonville Jaguars), Kevin Brock (Dallas Cowboys tight end), Brian Cushing (Houston Texans linebacker), Vinny Ciurciu (Detroit Lions linebacker), Joe DeFranco, David Diehl (NY Giants tackle), Mackenzy Bernadeau (Carolina Panthers guard), Kevin Walter (Houston Texans wide receiver) IN FRONT: Lucy DeFranco, Brian Witherspoon (Carolina Panthers punt/kick returner)
WORLD'S STRONGEST ATHLETE CONTEST!
The charity dinner on Wednesday definitely set the tone for a great event on Saturday…and a GREAT event it was!
We had professional photographers & videographers covering the event, so I don't want to show too much footage or pics right now. We will be providing the professional, in-depth footage & results on this blog as soon as we receive them! But, I know people are dying for the results, so I'll hold you guys over by revealing the winners now. I've also provided a quick "teaser" video of the event so you can get a feel for just how intense it was on Saturday!
POLICE/FIRE/MILITARY WINNER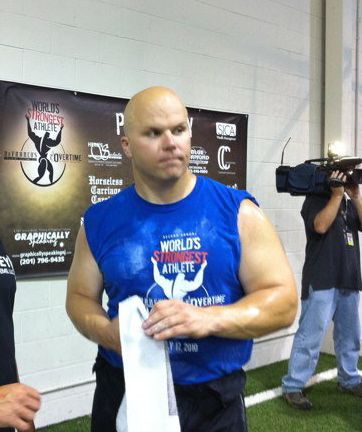 Kevin Kelly – NJ State Police
COLLEGE ATHLETE WINNER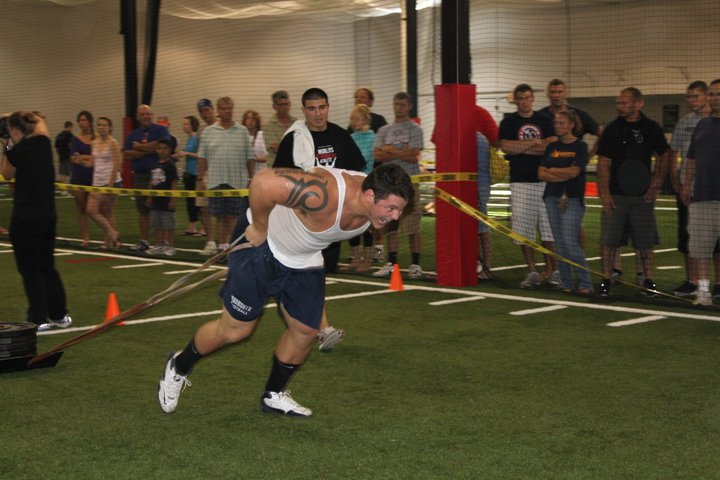 Andrew Sklover – Monmouth University, football
HIGH SCHOOL ATHLETE WINNER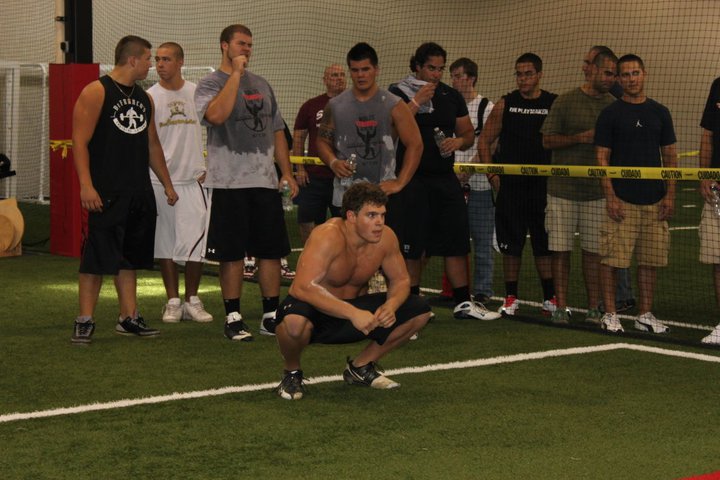 Pat Cole, Hasbrouck Heights HS (New Jersey) – Track & Field
Check out this video teaser…
In case you were wondering; the clips of the prowler sprints at the end were from the High School Division's tie-breaker! Patrick Cole & Travis Woods from Edison, NJ, were tied after the four events so they did a sudden-death "prowler push-off"!
Here's a still shot of the finish line during their first "overtime"…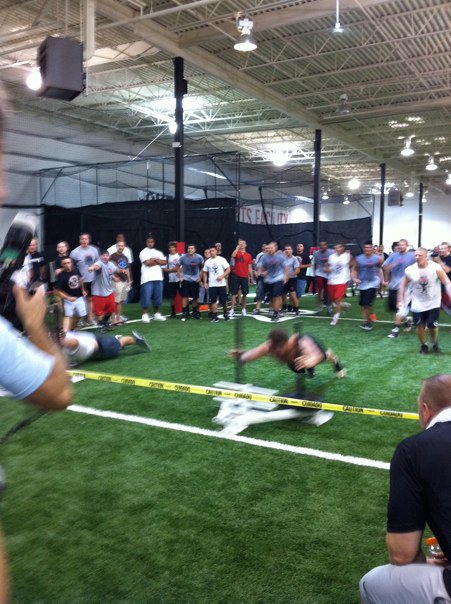 If you look closely, you'll see both kids are AIRBORN! Talk about giving 110%!
It was WAY TOO CLOSE to call – and we didn't have conclusive video or photo evidence – so these two young warriors had to do it again…DOUBLE-OVERTIME after a grueling 3-hour event in the brutal humidity!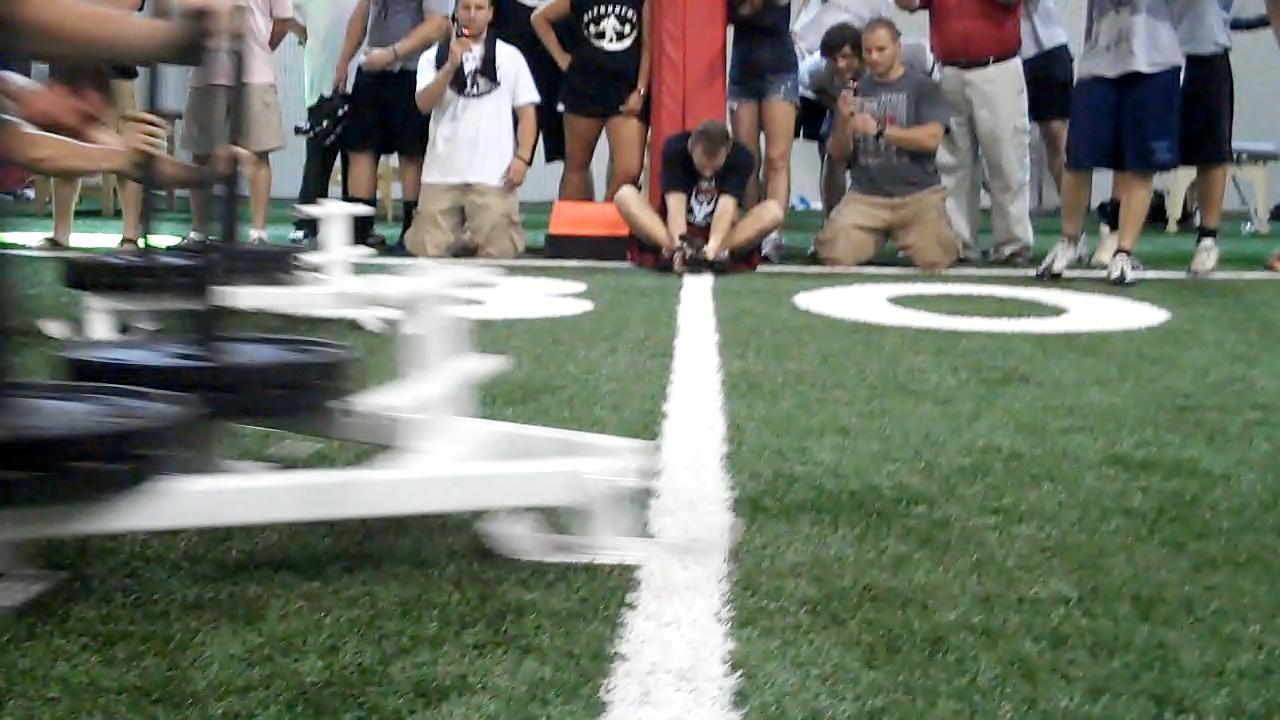 Double-Overtime goes to the 16-year-old manchild, Pat Cole!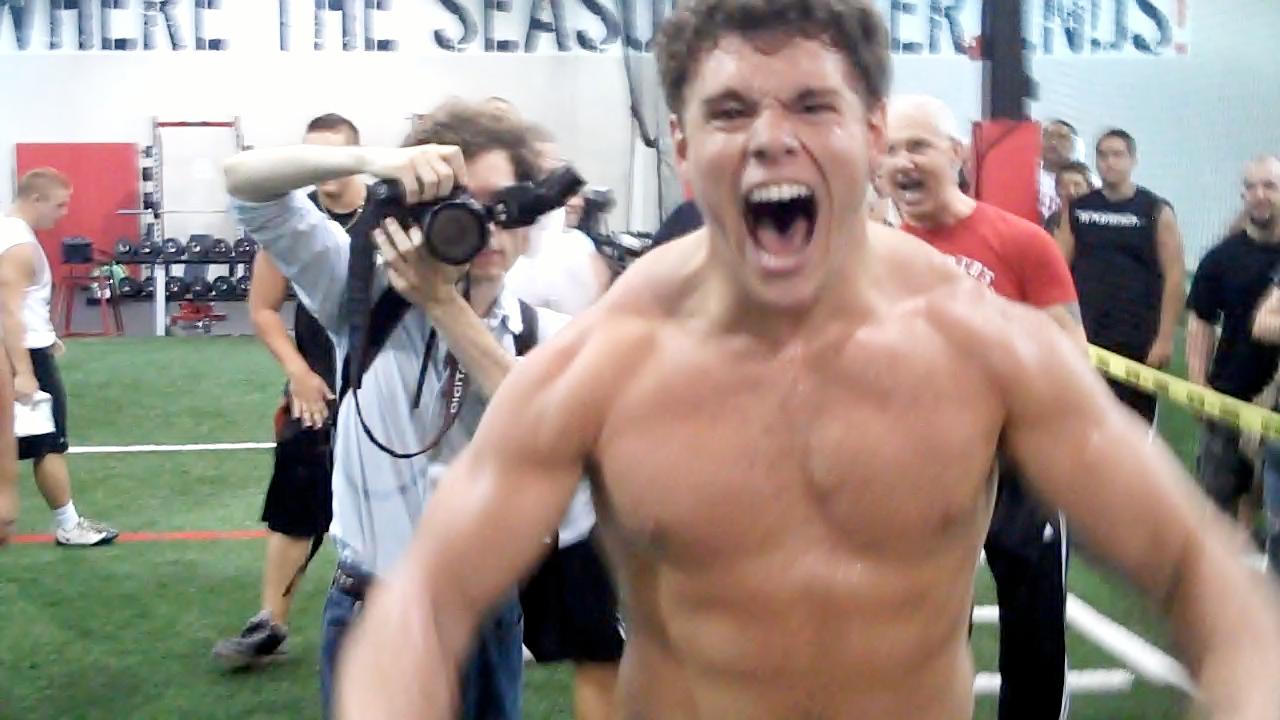 Stay tuned for more pics, videos and in-depth highlights from this years World's Strongest Athlete weekend!!!
Leave us your comments below and let us know your thoughts on this year's event highlights!
-Joe D.