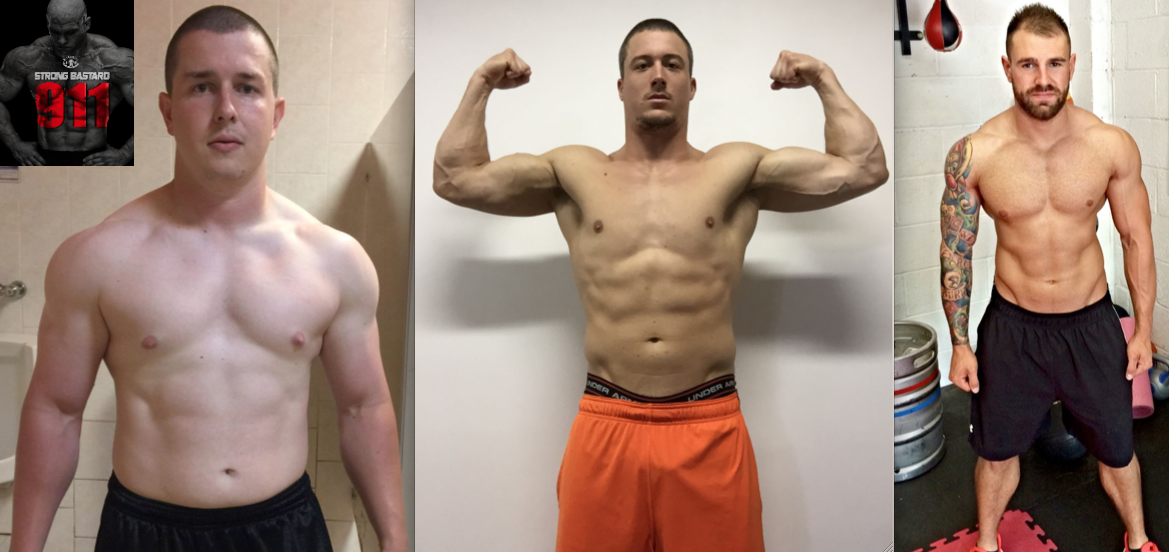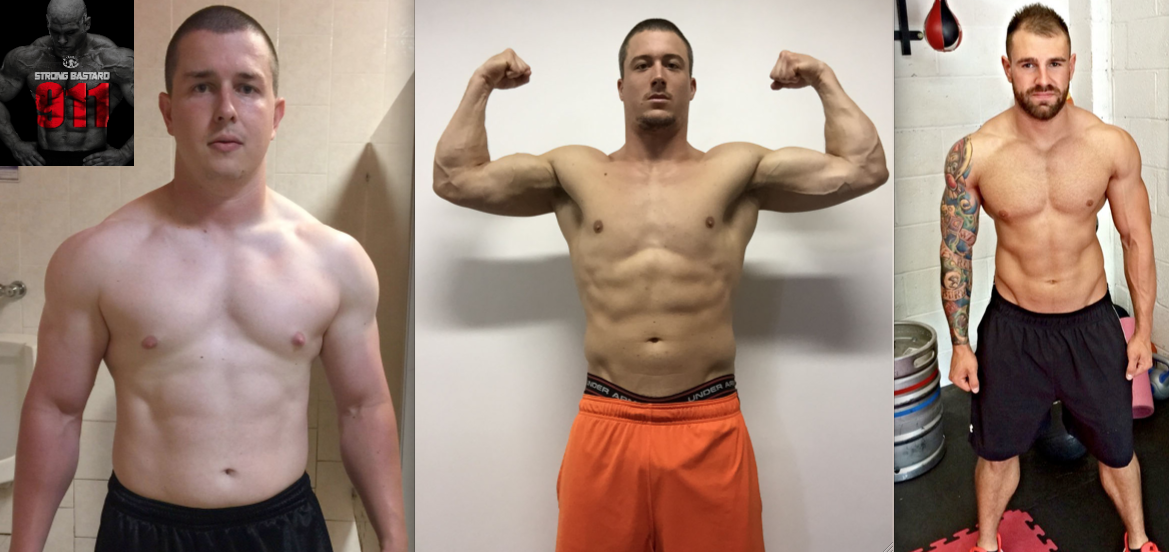 Today we are announcing the Strong Bastard 911 (SB911) Transformation contest Grand Champion. We are also launching the SB911 program to YOU!
Our new SB911 program was first released only to our DeFranco Insider community. But, since it was so effective to our community, we decided to release it to the public so everyone can experience the single best program we've ever created. I know that's a bold statement. But we truly believe this is the best program and you will too.
Before I tell you where you can go get the SB911 program for yourself – I wanted to quickly introduce you to 3 strong bastards.
Out of the 600+ members of the DeFranco Insider, these guys were our Top 3 finishers in the members-only transformation challenge. As you can probably imagine, the competition was stiff! In fact, it took Smitty and I weeks just to narrow it down to the initial "sweet 16" finalists. From there, we narrowed it down to our Top 5…then our Top 3….and finally, we had the daunting task of picking a Grand Champion.
All three guys were deserving and it came down to the narrowest of margins. Literally everything counted. (Contestants were judged on 3 categories: 1. Physical transformation  2. Written essay  3. Video testimonial)
We chose the person who we felt presented the best "total package" of physical qualities, along with the communication skills to become an ambassador for the SB911 program and the DeFranco Insider community.
So without further ado, check out the amazing transformations of our Top 3 Finalists in the first-ever STRONG BASTARD 911 TRANSFORMATION CHALLENGE:
3rd Place – Luke Brooks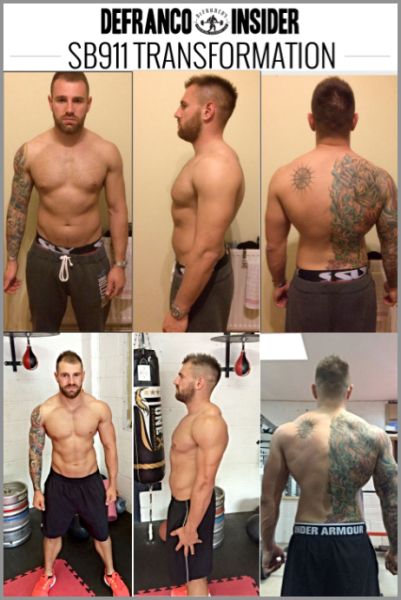 Luke's transformation is even more impressive when you know that he overcame some serious health issues during the contest (he actually had surgery midway through the program), yet he still powered through and finished — proving why he is one of the strongest bastards in the world!
2nd Place – Kevin Cassidy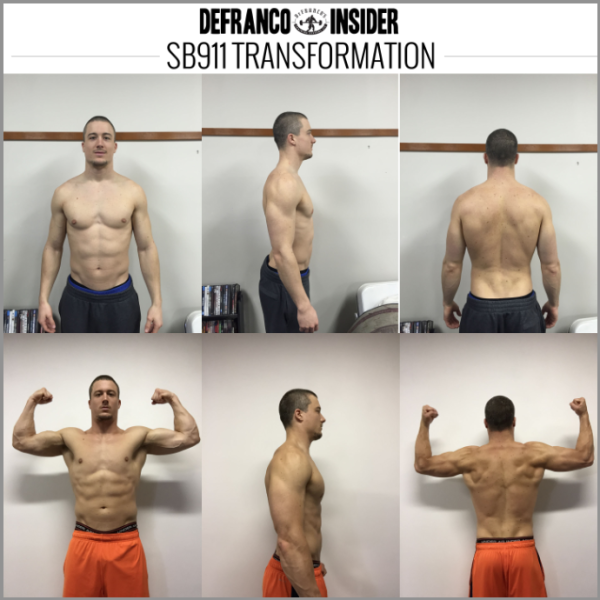 Kevin is another guy who had to deal with plenty of adversity while participating in this contest (death in the family and other family issues), yet he finished what he started…and he certainly finished strong!  Look at the difference in his forearms! (That is one of the ways you can tell if someone packed on real muscle/strength.)
*Kevin can now use his new-found grip/forearm strength to hold onto the $1000 we'll be sending him for being the runner-up in this SB911 contest 🙂
GRAND CHAMPION – Charlie Guthrie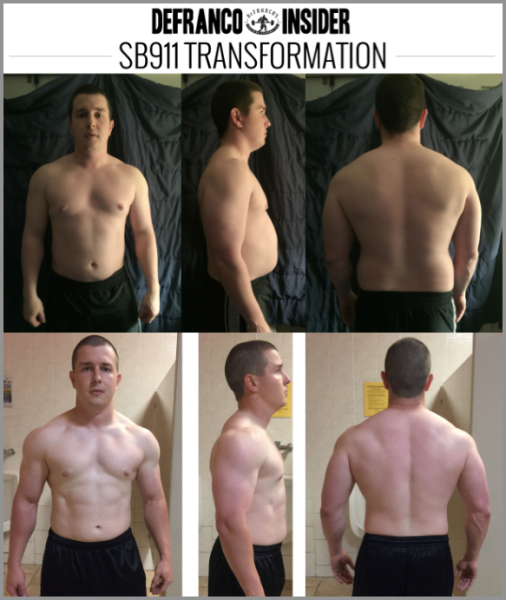 Check out the amazing transformation that Charlie made! You know you made a LEGIT transformation when you're LESS tan in your "after" pics, yet you still look better 🙂
This is truly an amazing transformation in just 11 short weeks. From the increased muscularity and "fullness" of his shoulders/traps/arms – to his shredded abs and "V-tapered" back – he truly made a complete transformation! And when you add in the fact that Charlie is great in front of the camera (speaking intelligently and with passion) – you have yourself the "Strong Bastard 911 Grand Champion"!  
Charlie is now $2000 richer and an overnight "Meathead Celebrity"…but more importantly – just like the hundreds of other people who completed this program – he's a stronger person because of it!
If YOU would like to join Charlie and the hundreds of other strong bastards who transformed their bodies and their lives – check out StrongBastard911.com NOW!
I'm about to go through another cycle of this program myself!  #motivated
– Joe D. 
PS – This week [and this week only] the Strong Bastard 911 program will be available to YOU at 30% OFF its regular price! Once the clock strikes midnight EST on Monday, October 19th – the full retail price of this program will be put in place.