Kareem Huggins – "The Comeback"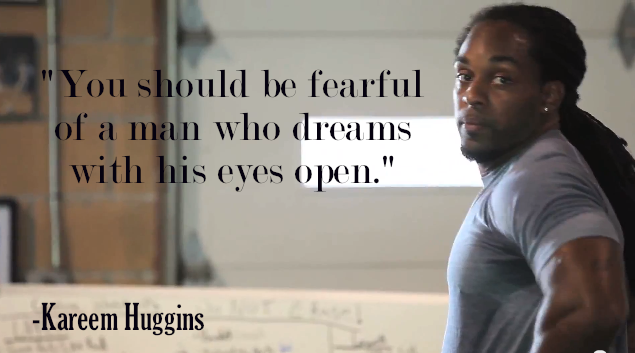 Episode description: Kareem Huggins finished the 2010 pre-season as the Tampa Bay Buccaneers leading rusher. Everything was looking good heading into the regular season for the second year undrafted running back from Hofstra University. That is, until "the hit" happened…
After making a 7-yard catch on 3rd down during Week 3 of the 2010 NFL season, Kareem was hit low by Saints linebacker Marvin Mitchell and didn't get up after the play. The hit tore Kareem's anterior cruciate ligament in his right knee. He hasn't played professional football since.
After multiple knee surgeries, complications, and over a year of grueling rehab, Kareem's knee still didn't feel right. This frustration brought Kareem to DeFranco's Gym in January of 2012 in an attempt to get his body back to what it once was.
Would DeFranco's unique and aggressive training methods be able to get Kareem's knee strong and healthy enough to warrant another shot at making an NFL roster? Would any NFL team even consider giving Kareem another chance after two years away from the game?
Find out more about Kareem Huggins and his incredible story in episode 3 of Driven Beyond Strength™!
*After you press play, make sure to change the setting in the bottom/right of the video box from 360p to 1080p(HD) so you can watch it in High Def!
Enjoy the show…
What did you think of this weeks episode? Drop us a comment below…we love hearing everyone's feedback!
-Joe D.