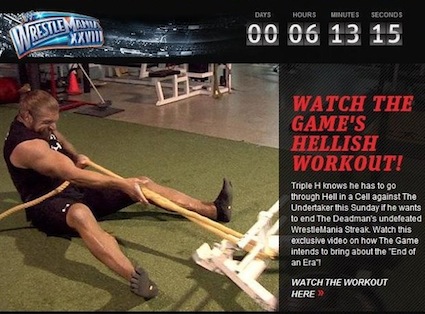 Photo courtesy of wwe.com
Click the link below to watch the video…
WWE.com: Triple H discusses his intense workouts with Joe DeFranco
Truly honored and humbled by Triple H's statements in the video regarding me and my gym.
I really hope the above video sheds some light on how hard many of these guys train. Trust me, they are much more than just "entertainers". Having worked with Triple H for almost two years now, I can tell you that the life, injuries and training of a WWE Superstar is just as intense and dangerous – if not more – than any other professional athlete! Training a dedicated WWE Superstar (like Triple H) is like training a gymnast, bodybuilder, Hollywood stuntman, world traveler and NFL linebacker all rolled into one! And remember that there's no off-season in the WWE, either! This creates some interesting challenges when programming their training.
After watching the video, come back to this page and drop me a comment below to let me know your thoughts. I'd also like to know  if you guys would be interested in a training article/feature that discusses the physical preparation of a WWE superstar? I was thinking this may be an interesting/unique feature for this website?
What do YOU guys think?…
-Joe D.