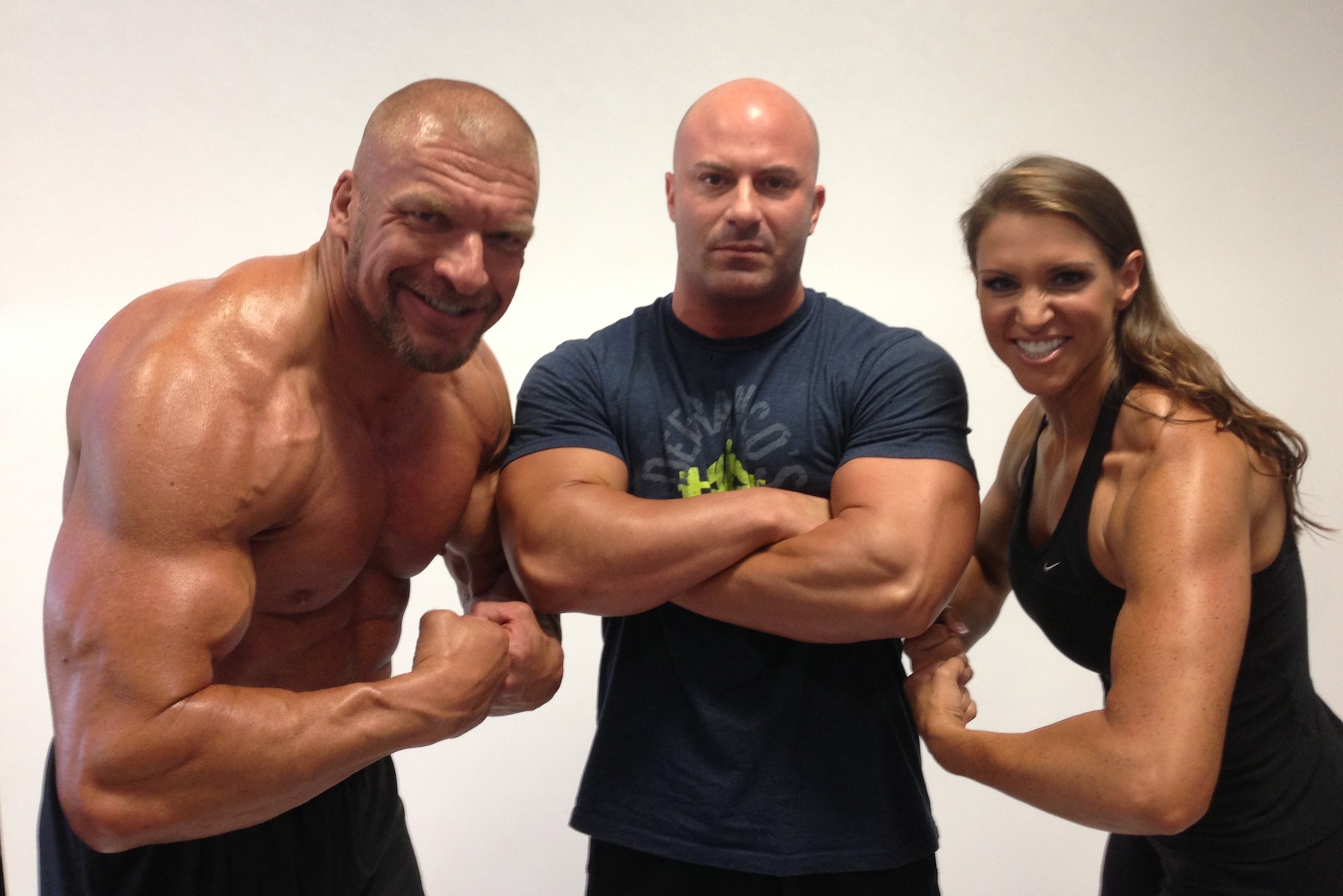 On set at the Muscle & Fitness cover shoot with the "Fittest Couple in the World"
Another busy summer has come and gone. It was a blur. And as usual, I had a difficult time keeping in touch with you guys. (Although, if you follow me on twitter, I did give weekly updates there.) My last blog post was way back in early July when I revealed my "pec-poppin' push-ups". At that point, I vowed to myself that I'd give my loyal website readers weekly updates as to what was going on in the Dirty Jerz at DeFranco's Gym. Unfortunately, things didn't go according to plan. But it wasn't due to a lack of effort – I assure you that! Although we're always busy training athletes during the summer months; this summer was different. This summer was much more than just a summer full of training…
This summer involved a few MAJOR projects that are about to come to fruition and I'm super excited to tell you about them…well, at least some of them. (One of them is a pretty big secret that will be revealed very, very soon :)) 
Anyway, you're about to find out the Top 4 reasons why I was "M.I.A." from my blog all summer. Here are the projects I've been working on in my "free time"…
#1 – Built 2 Last ebook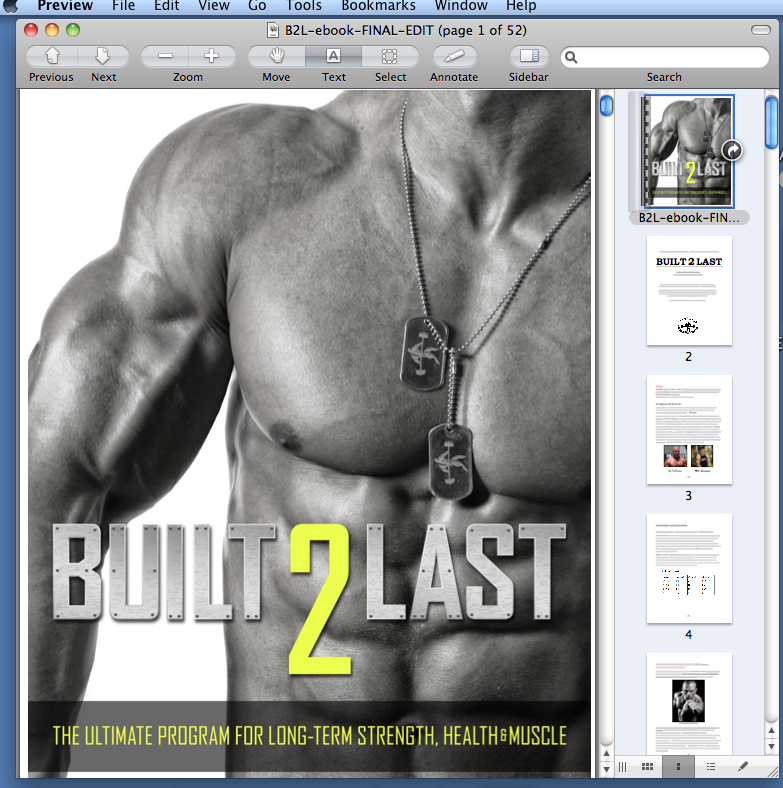 See…it really exists! 
I've been talking about this program for almost a year now, but the wait is over! Built to Last will be available to YOU on Tuesday, September 16th!  Trust me, it will be well worth the wait. The changes and additions we made during the past 2-3 months have made all the difference. For example, Mike Guadango (co-creator of the program), dropped 4% bodyfat while gaining 10 pounds during our final test cycle on the program. He also added 8 reps to his close-grip bench press! (He went from 275lbs x 6 to 275lbs x 14 reps!)
I personally got leaner than I've ever been in my entire life due to this new style of training. (Although I should also give some credit to Metabolic Meals for my improved body composition :)) I went from 231lbs to 222lbs and I am now able to see my abs for the first time since 1998!! My strength also increased. My bench press went from 315 x 4 reps at the start of the program to 365 x 5 reps during my final testing week!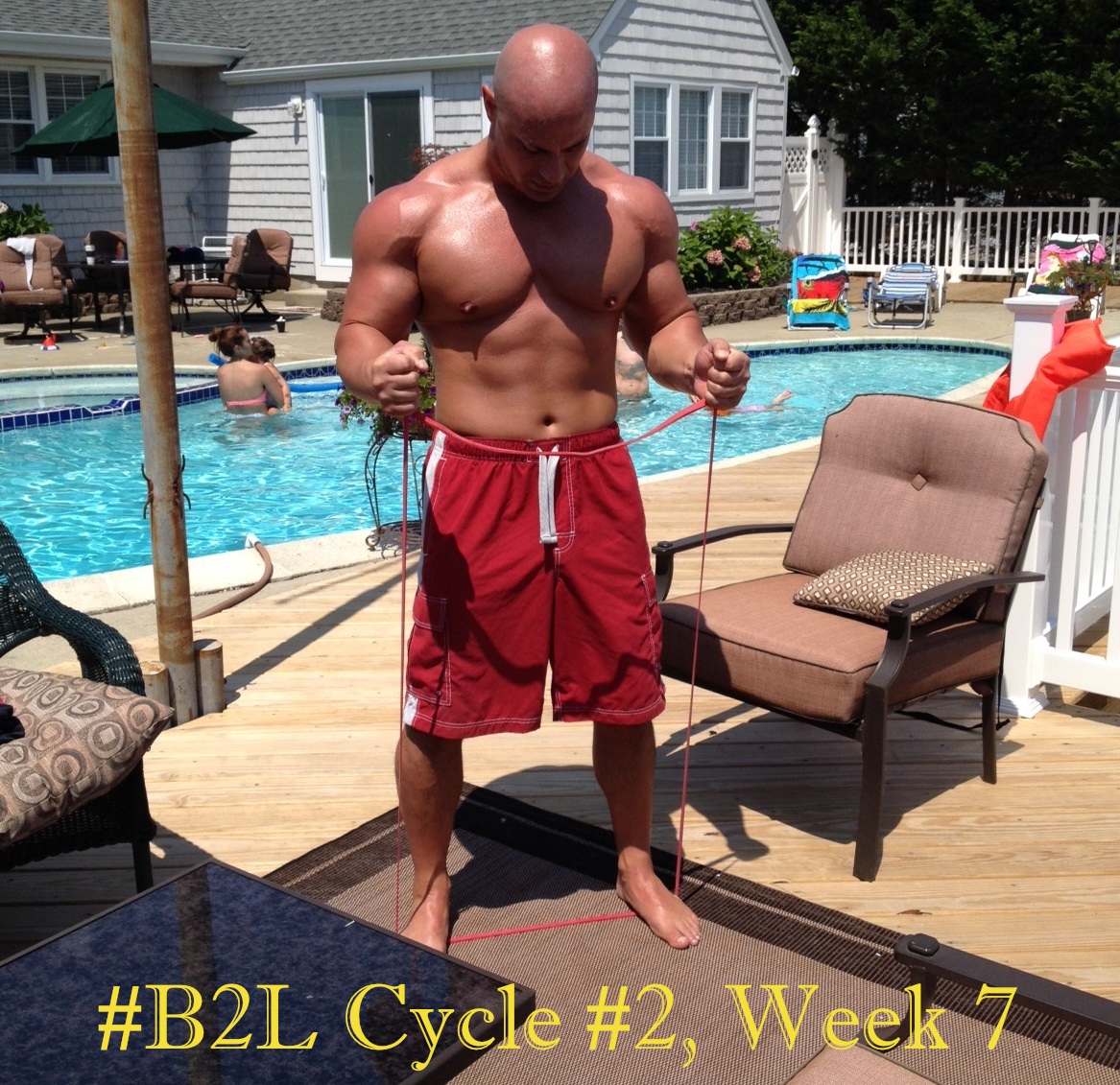 I can't say enough about the program. We are so excited for you guys to experience the same type of success we experienced (along with the dozens of our "test subjects"). Don't forget to check back here on September 16th so you can download the ebook from our STORE page and get started ASAP! If you haven't already, I strongly encourage you to sign up for my FREE e-newsletter! It's at the top/right of this page. My e-newsletter subscribers will be the first informed when the ebook is available for download.
#2 – NEW (members only) website

One of my major goals this year (and for years to come) is to reach out and help more coaches, personal trainers, gym owners, therapists, and washed-up meatheads. In order to do this, I will (finally) be cutting down on my training hours to free up some valuable time. As much as I love training athletes, after 20 years "on the gym floor", I feel like it's time to place more of an emphasis on helping other people in the fitness industry as well. The DeFranco Insider will be the perfect platform for me to do this.
Although I've shared a TON of information on my website during the past 11+ years (and I will continue to do so), the DeFranco Insider will be different. To be completely honest and up-front — as generous as I've been with my information over the years — there are things that I'm not willing to share for free on a public forum. This is where the DeFranco Insider will come in. This exclusive website will provide the following:
Never-before-seen programs that I've designed for world-class athletes & VIP clients

CPPS monthly workouts & videos

Massive members-only video library / Exercise Index 

Members-only forum where you can post your training log and/or workout videos and get critiqued and advice from some of the best trainers and coaches in the world

Direct access to Joe DeFranco, Jim "Smitty" Smith, and other world-renowned trainers and coaches. (On a personal note: I will be logging onto the forum multiple times a week to answer questions and help our members out any way I can. I will be treating the members of the DeFranco Insider like an extension of my "gym family". Being active on the site will be a

major

priority of mine. 
Smitty and I are working around the clock to put the finishing touches on the site. The good news is that we are almost done and the site will go
LIVE in October
! I look forward to seeing you guys on the
"inside"! 
#3 – Biggest Announcement/Partnership in Gym History??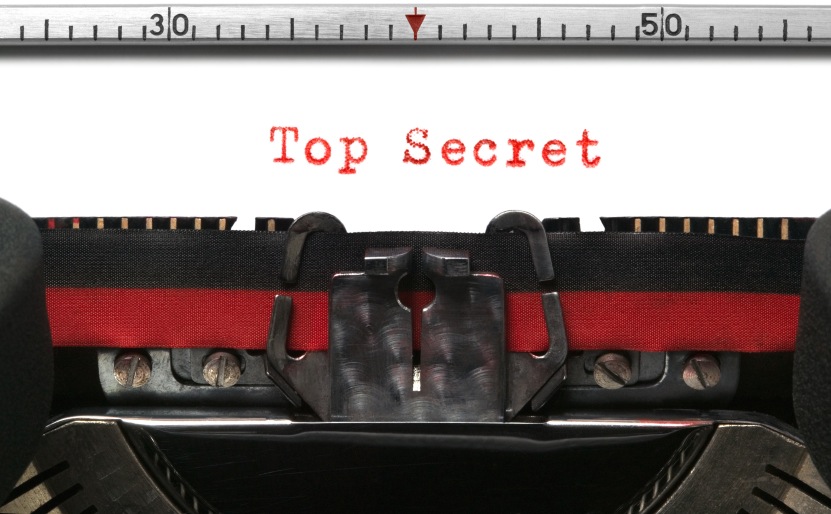 This is probably the most exciting announcement on this list. It's been in the works for quite some time now and it's about to go down….but I can't reveal anything just yet. Sorry.
The good news is that I'm taking a trip in a few days and the big "reveal" shouldn't be too far behind. I apologize for the "tease", but I'm so friggin' pumped I felt compelled to write something. Please don't hold it against me…you'll forgive me when you find out what the big secret is 🙂
#4 – "Mainstream" Fitness DVD's will NEVER BE THE SAME!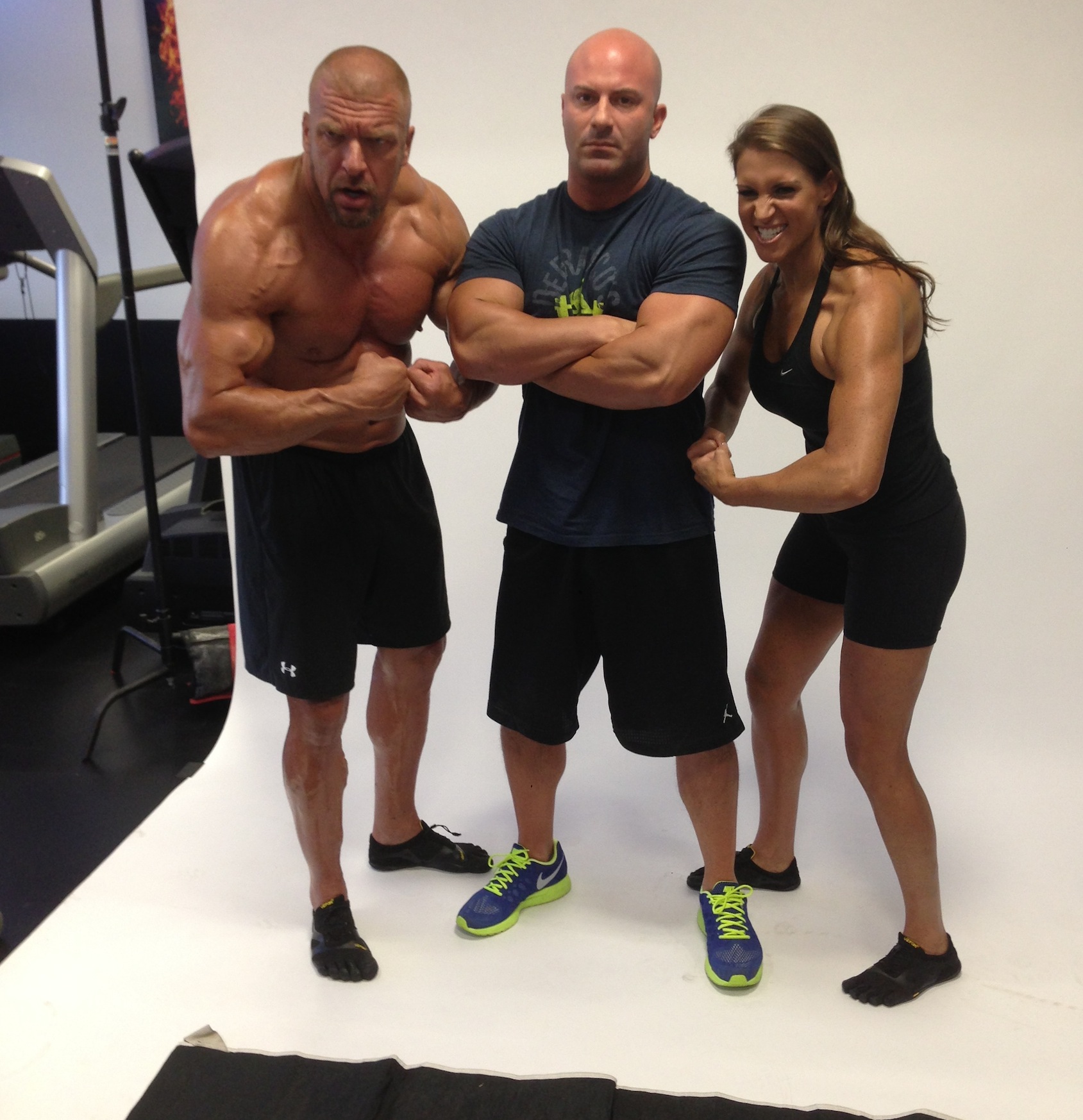 Move over Jillian Michaels, P90X, and the rest of you mainstream fitness types…
This dynamic duo is about to change the game! 
Since I probably pissed you off with my little "secret", I wanted to end on a good note.
This past Thursday, I spent the day at the WWE Headquarters in Stamford, CT, for a Muscle & Fitness photo shoot with my good friends Paul "Triple H" Levesque and Stephanie McMahon. They will be gracing the cover of Muscle & Fitness in November/December to promote the release of their new Workout DVD's. I am honored and humbled to say that they chose me to develop the content for the DVD's (which were shot at the WWE Performance Center in Orlando, FL, this past March).
These DVD's are NOT your typical "mainstream" fitness dvd's that are filled with gimmicks and fluff. The workouts we designed for these DVD's are incredibly unique in that they were tough enough to crush many of the elite athletes at the Performance Center during filming, yet they are extremely "scalable" in order to suit beginners as well. (My wife has been doing the workouts in Stephanie's DVD for a few month's now and she absolutely loves it!) Stephanie's DVD will be part of WWE's new "Fit series" and it will provide 5 unique workouts: Upper Body, Lower Body, Abs, Flexibility, Fat Burning Cardio.  
Triple H's DVD will be part of WWE's new "Power series" and it will provide 5 unique workouts as well: Lower Body strength, Upper Body strength, Upper Body hypertrophy, Mobility, Muscle Building Cardio.
Both Triple H and Stephanie's DVD's can be performed at home with just your bodyweight and a pair of dumbells – so there's No Excuse!
Look for the Muscle & Fitness issue – as well as the release of their DVD's – to hit the stores this holiday season! (November/December)
Now that you've seen what I've been up to, hopefully you'll give me a pass for not posting more on my blog this summer 🙂
I will end this blog post with one of my favorite Bruce Lee quotes:
"If you knew you had to fight for your life tomorrow, would you change your training today?"
Now let's go kick September's ass!
Joe D.