COMING IN DECEMBER!!!
Lost Secrets of Strength: The Business Files
Teaser video #1
Teaser video #2
This DVD/Audio CD series will reveal THE blueprint for running your very own, profitable garage or warehouse gym! Last month, myself and Zach Even-Esh gave a closed-door seminar to a group of individuals that own – or they're looking to own – a garage or warehouse gym. Zach and I discussed how we got started, our biggest mistakes, equipment recommendations, marketing strategies, book recommendations, insurance information, how to write things off for tax purposes, scheduling structure, business structure, payroll, our top business rules and much, much more!
After completing this information-packed, 2-hour private seminar, we jumped on the phone the following week and covered all the business topics that weren't addressed at the seminar.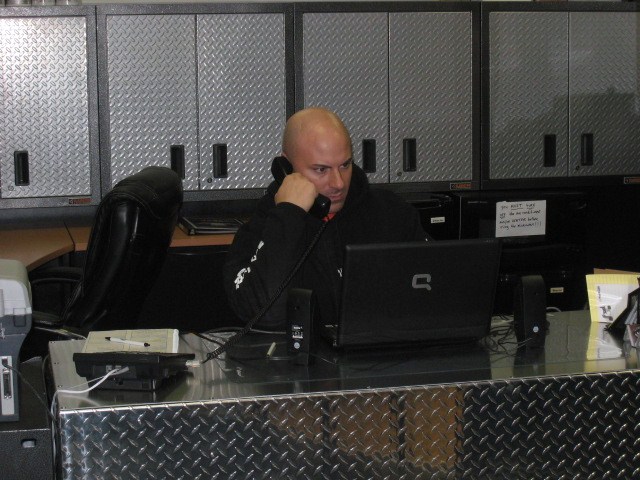 Believe it or not, I'm not mad; I just take this business stuff very seriously 🙂
This DVD/Audio CD series is not for everyone. This will be another one of those "specialty" products geared towards the very select few that want to make a successful living running a garage or warehouse gym. For those interested, I just wanted to give you the "heads up". I figured the early notice would give you enough time to add it to your Christmas list and slip it to a loved one 🙂

—————————————————–
BEST EMAIL OF THE DAY…
Joe-
Day 1 on the BUILT LIKE A BADASS program fucked me up, and then some!  I am strong and thought I was in great shape, as I recently ran a 6:30 mile, but I got blown out!! I mean I was gassed and done and then still had to go onto the barbell complex finisher….I figured how bad can two sets be…we'll let's put it this way…  I got done with the second set, couldn't see or breath, thought I was going to yell at my shoes, staggered into the locker room and had to sit for a few minutes, then got in my car and sat there motionless for 5 minutes.  Holy shit!!!!  All I got to say is, "thank you sir, may I have another!" Great program and after doing all your templates, including the scouting combine template, I can definitely say this one is hands down THE CHAMP for me. Nice work!!!!
Best Regards,
Ryan E.
Newport Beach, CA
—————————————-
Q:

Hi Coach Joe,
I got the e-book and I have a question with regards to warm-ups.
On the warm-ups, you advise doing your "Agile 8" and "Simple 6" routine but these seem more like stretching than warm-ups. In the stretching roundtable article, you advise to "raise your core temperature with a general warm-up" then do some mobility drills. I always make sure I have a light sweat going before starting my workout. I'm not sure whether to do my light warm-up then the Agile 8 or Simple 6 or the reverse order, or go right to the Agile 8 or Simple 6?

My normal warm up is either jump rope or Airdyne bike for 5 – 7 minutes followed by some mobility type exercises before my workout.

Thanks,
Steve C.
Yes, you should build up a light sweat before you perform any stretching or mobility exercises. I suggest jumping rope or riding the bike

first

, then go through my "Agile 8" or "Simple 6". The entire warm-up process should only take 10-12 minutes – and it's well worth it!!

Best of luck with the program!
Q:

Joe Defranco,

Just bought your new ebook. I love it! Well worth the money. I have two quick questions.

1.) Could I cycle box jumps in during the first phase using the same percentages for the squat and bench, but do a lower volume of total reps?

2.) For the tabata jump rope routine, would this routine work for high school lineman or would the times have to be adjusted?

Thanks, Brad
A: Brad,
Although I am a huge fan of box jumps, I highly recommend going through this program exactly how it's written. Too many people want to make changes to programs before they even give the program a try. Remember that this program evolved over a 15-month period. When performed exactly how it's written; IT WORKS…trust me!
I'm assuming that you want to add box jumps to the program because you've done them in the past and you've experienced good results with them. My suggestion is to perform the program exactly how it's written so you can experiment with some new jump exercises that we've incorporated into the program. (This will expose your body to new things so you can decide what else works for you besides box jumps.) Once you complete the first 12 weeks of this program, you can go through it again (using your new maxes) and substitute the DB squat jumps with box jumps. (You should be pleasantly surprised at your box-jumping ability after focusing on different jumps for a 12-week period.)
As far as our "tabata-style" jump rope routine is concerned; I highly recommend it for high school lineman (and all football players for that matter)!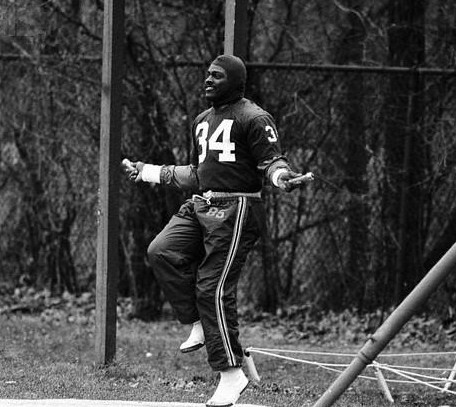 Walter Payton jumping rope…you can't get a better endorsement than that!
And you don't have to adjust the times at all. (I'm assuming you were asking about adjusting the times because the "work" period is a little longer than the average football play.) It's important for you to know that you don't have to make every single aspect of conditioning (especially for high school lineman) "football specific". Most high school lineman would benefit immensely just by improving their general fitness levels! In other words, it definitely won't hurt them to be able to jump rope for a couple rounds of 20 seconds without gassing out!!
-Joe D.
——————–
Q: I just bought the badass workout and the first two days were great.  I have a question about the chins. For week 1 on it says "Max Chins+50%".  So if my max chins in a row is 10 all I have to do is 15 chins before I move on to the next movement? Just doesn't seem like a lot. Your feedback is appreciated.
Thanks
Paul T.
A: Yes Paul, you are correct. But please don't be fooled; the number of chins you have to perform is relative to the rest of the workout. We don't want you getting fried out from the chin-ups during the first 2 weeks because we want you to have some "gas left in the tank" for the rest of the workout. And remember it is a progressive 12-week program; so you will gradually be adding more chins in the weeks that follow. In other words; there is a method to our madness!

There is a reason and a purpose to every exercise, set, rep and percentage to the entire Badass program. Follow it as it's written and in 12 weeks you will "get it"…

TRUST ME!!

-Joe D.
——————–
SPEAKING OF BADASSES…….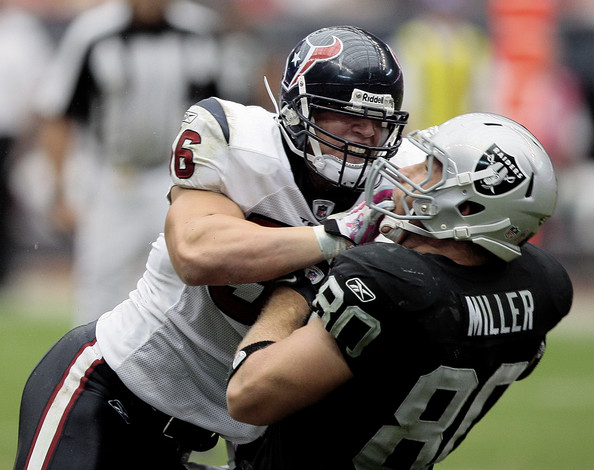 Brian Cushing knocks Raiders tight end, Zach Miller, out of the game
The NFL has posted the official PRO BOWL BALLOT on their website so fans can vote for this years Pro Bowl starters.
Going into the Houston Texans bye week (last week), Brian Cushing was leading the AFC in tackles and was ranked #2 in the entire NFL in tackles with 78! He also leads the Texans with 2 fumble recoveries and he's tied for the team lead with 2 interceptions. Cush has also been nominated for ROOKIE OF THE WEEK 3 times in only 9 weeks…and he's also been named AFC DEFENSIVE PLAYER OF THE WEEK twice already this year! Needless to say, he is having a dominant rookie campaign and he deserves a trip to the Pro Bowl! Unfortunately, the Pro Bowl can be somewhat of a "popularity" contest so there are always a couple deserving players that get overlooked. Cush has done – and continues to do – his part on the field; now I'm asking all of YOU to help him get the "popularity" fan vote so he doesn't get overlooked.
I'm assuming if you read my blog and follow this website; you like to train and you respect hard-working, blue-collar athletes that have earned everything they've gotten! Well, (whether you're a Texans fan or not) Brian Cushing is the epitome of everything that this website (and it's readers) stand for! So I'm asking everyone who reads this to do a favor for one of the "good guys" in professional sports and…
*The above link will bring you to the Pro Bowl home page. Once you're on that page, click on the "DEFENSE" tab and then the "Outside LB" link underneath it. After you click on those two things, you will see "Brian Cushing" listed on the left hand side. (He is the 3rd name down.) Click the box next to his name and then scroll down to the bottom of the page and click the blue box that says "SUBMIT BALLOT". Also note that you can vote more than once; so feel free to visit nfl.com whenever you have some free time during the days and weeks to come 🙂

After you vote for Cush, feel free to vote for Miles Austin (Dallas Cowboys, wide receiver), David Diehl (NY Giants, offensive tackle) and Deon Anderson (Dallas Cowboys, fullback)

Can't believe we have 4 potential ALL-Pro's in this little warehouse…DAMN, that's sayin' something…
-Joe D.