This article was written by Jennifer Turner and originally appeared on the Onnit Academy website.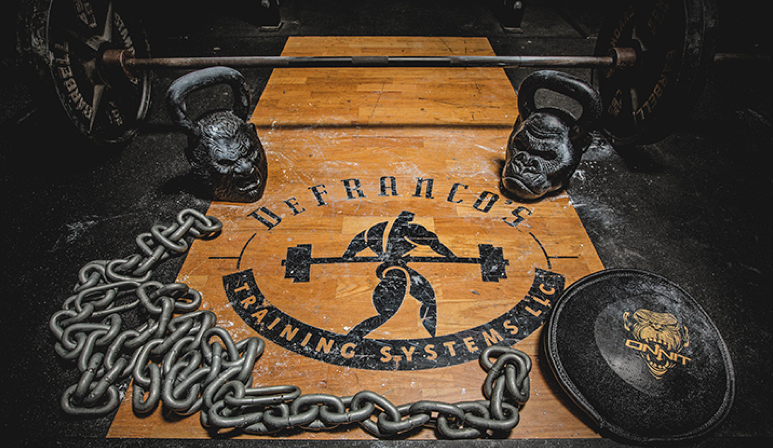 DeFranco's Gym at The Onnit Academy opens doors to the public this month, combining the world famous performance training methods responsible for producing top NFL and WWE stars like Brian Cushing and Triple H (Paul Levesque) with Onnit Academy's unrivaled unconventional training expertise.
Onnit Academy Gym is a 10,000 square foot operation located adjacent to Onnit headquarters a few miles from downtown Austin, Texas. The flagship facility has two uniquely outfitted spaces ideal for expression of both Joe DeFranco's and Onnit's preferred modalities.
What the Onnit Academy Gym Offers
The main hall boasts the actual training equipment from Joe DeFranco's legendary New Jersey gym, voted by Men's Health to be one of "America's 10 Best Gyms". Complete with 90 feet of high quality turf, 4 professional squat/bench platforms, unique performance equipment, and enough weight to train an NFL team, many of the nation's top athletes are expected to train alongside athletes of all walks of life.
The second hall is fully loaded with the full range of Onnit's unconventional fitness equipment, featuring kettlebells, sandbags, steel maces, steel clubs, and more. Offering individual, small group, and large group training, the Academy promises to be the epicenter of a new paradigm in peak performance training, regardless of where anyone is starting from.
"I couldn't be more excited to relocate my gym to the Onnit Academy in Austin, Texas. With DeFranco's Gym & Onnit Academy under one roof, we now truly have a one-stop-shop for anyone to achieve their fitness or athletic goals. The combined knowledge and passion of both teams, coupled with the state-of-the-art equipment and recovery modalities, puts this facility in a league of its own. I can't wait for athletes and fitness enthusiasts from across the globe to come experience this amazing facility," commented Joe DeFranco.
In addition to the training available, the Onnit academy is one of the first public gyms in the nation to offer full body cryotherapy, which has a multitude of well documented benefits including enhancing the recovery cascade and helping reduce inflammation response. Myofascial release and massage, along with unique yoga offerings from Black Swan Yoga are also a part of the plans.
Other amenities include infrared sauna, locker rooms and showers, as well as a flagship smoothie, coffee, and supplements bar, the first of it's kind for Onnit. The objective of the Onnit Academy is to provide not just the physical training, but a comprehensive, holistic approach to total human optimization.
"Before I founded Onnit, I had a dream of opening up a gym that combined the relentless enthusiasm of a warehouse gym, the scientific rigor of a world class peak performance facility, and the knowledge of the functional methods that had existed in warrior culture throughout history. What is coming to fruition at the Onnit Academy is beyond anything I could have ever imagined," remarked Onnit CEO, Aubrey Marcus.
Mark de Grasse, Chief Fitness Officer for Onnit went on to add, "It's amazing to see the physical manifestation of this new fitness paradigm. I believe that there is going to be a major shift in the way people view and practice exercise in the near future, and the Onnit Academy Gym is going to be ground zero for that change."
When to Train at the Onnit Academy Gym
The launch will kick off November 21, 2014 with a star studded grand opening party and live podcast hosted by Aubrey Marcus and Jason Ellis of the Jason Ellis Show.
The party is a private event for Onnit and DeFranco's Gym VIP's and media only. Onnit Honor Roll Athletes in attendance will include UFC trainer of the year, Mike Dolce, UFC Champ TJ Dillashaw, UFC athletes: Tim Kennedy, Danny Castillo, Andrew Craig, Paige VanZant, Joseph Benavidez, Luke Barnatt, Olympian Trey Hardee, entrepreneur Lewis Howes and many more.
For more information or to request a press pass to the grand opening event please contact jennifer@onnit.com.
To contact DeFranco's Gym and Onnit Academy gym call 855-787-7269 or email info@onnitacademy.com.