Episode # 8
Eric LeGrand Interview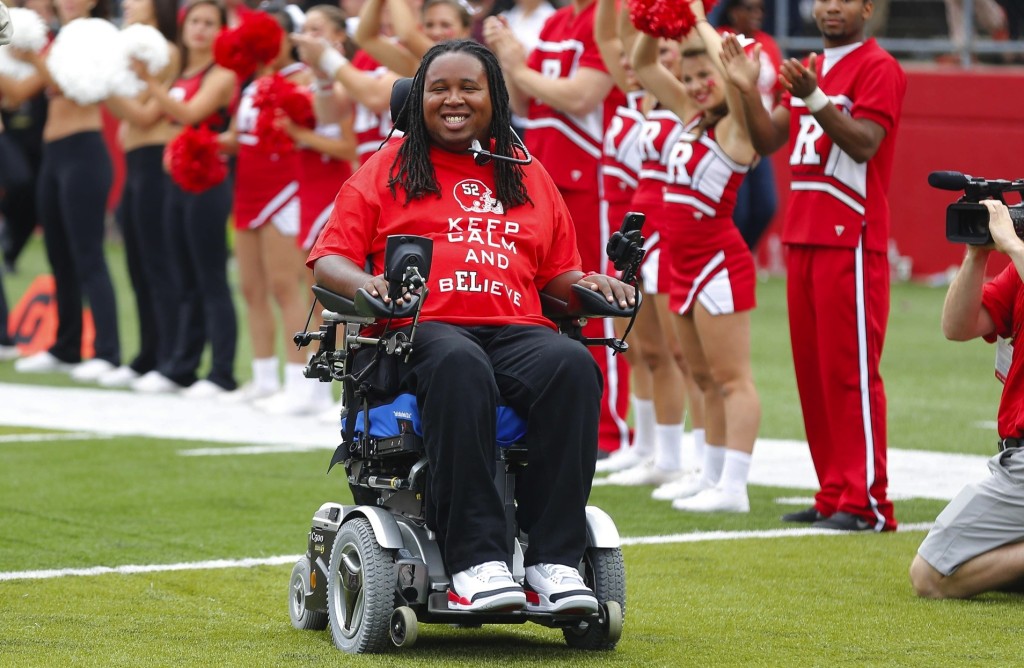 Released on April 23, 2015
"Everyone has adversity that they have to deal with in life, but it's how we handle that adversity which will ultimately define us." -Eric LeGrand
Just when you thought the Industrial Strength Show couldn't get much better, Eric LeGrand enters the building and delivers the best damn show yet!
NOTE: Please check out Team LeGrand at www.AWalkToBelieve.org – donate if you can – and come join us in June for the walk and 5K run at Rutgers!
Here's a recap from this weeks podcast…
Joe shows Eric the "Top 20 Ultimate Podcast Guest List" that he made back in December when he decided he was going to start a podcast. Joe had Eric LeGrand as #3 on that list – behind only his dad and Triple H. Joe tells Eric that he would have been even higher on the list, but he didn't think he would be able to get Eric on the show. The reason he had Eric so high on that list is because Eric is the epitome of "Industrial Strength".
Joe reads a text from Eric's former Rutgers teammate and longtime "DeFranco Disciple", Steve Beauharnais (currently with the Washington Redskins). Here's the text that Steve sent Joe during a conversation they were having about Eric and his attitude towards his injury:
"I could never do it, but God never puts you in a situation you can't handle. Eric can handle it. I really honestly believe that he will walk again." – Steve Beauharnais
Doctors told Eric he would never breathe on his own or eat solid food again. (The injury happened on October 16, 2010.) One month later he was home and breathing without the help of a respirator…and he ate Thanksgiving dinner with his family 🙂 This was the first glimpse into Eric's faith & perseverance.
Eric's mother instilled in him an attitude to "always be appreciative of what you have, rather than worry about what you don't have." This mirror's a quote that Joe's mom has said for years, when discussing her battle with Multiple Sclerosis, "Don't focus on the things you don't have or you cant control; focus on all the good things that you DO have."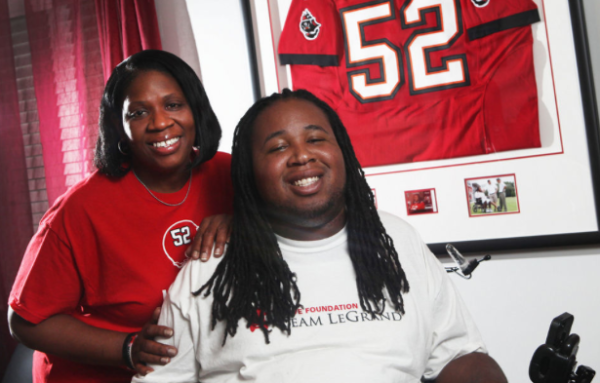 Eric's mother kept everything positive since Day 1 of his injury, which has made a huge difference on Eric's outlook. His mom didn't allow any visitor's to come in Eric's hospital room unless they had a smile on their face and kept the conversations positive.
Eric sees his injury as an opportunity to inspire and touch more people than he ever would have as an NFL player. He's using his notoriety to be an inspirational speaker and help raise awareness and money for spinal cord injury research. He has, in essence, taken over for Christopher Reeves as the "face" for spinal cord injuries.
Eric recalls his first big motivational speech, which was live at ESPN's ESPY Awards – inspiring guys like LeBron James and having fun at the after-party with GRONK!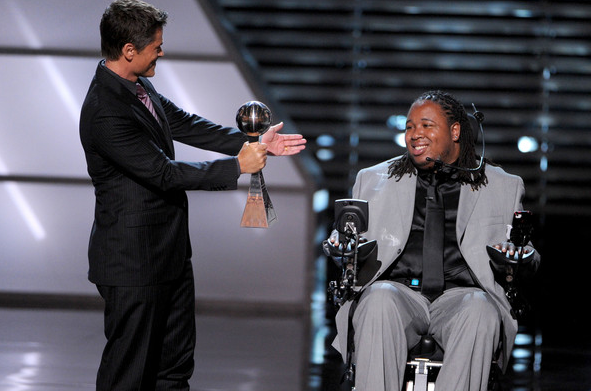 Eric discusses the mental toughness that came from being an undersized D1 defensive lineman. He was usually 25-30 pounds lighter than everyone he went up against, but in his words, "I would never let anyone outwork me." He was also always stronger than the person he was going up against. When Joe asked Eric about his best weight room lifts, Eric revealed that he had a 353lb power clean, 605lb squat and 415lb bench. He was only 18 pounds away from breaking Rutgers' Power Clean record and 20 pounds away from their Squat record.
Joe tells Eric he has a lifetime free membership to DeFranco's Gym and when Eric gets out of his wheelchair, he will train him to break Rutgers' Power Clean and Squat records "just because". Joe says he's going to start working on Eric's program this weekend.
Eric refers to his everyday rehab progress as his "gameday victories". Things like breathing without a respirator and eating solid food were huge "wins" for him. Other big recent "victories" include: 17 minutes of sitting upright on his own; 36 minutes of standing (with the help of a brace); moving his shoulders; leaning forward without falling over then sitting back up; and twitching his fingers. He also discusses some incredible physical therapy techniques and machines that are helping people with spinal cord injuries.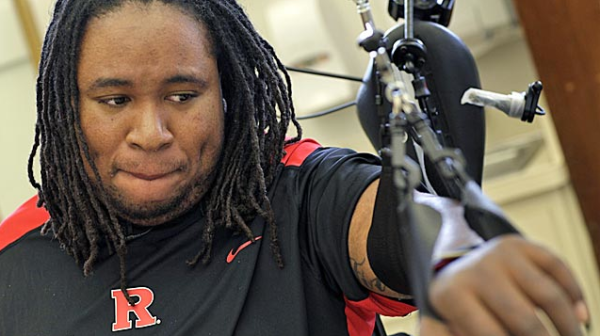 Joe & Eric discuss how Eric's work ethic and dedication to the weight room – previous to his injury – have translated into his therapy now. Eric tells us how hard it is for the people who never put the work in previous to their injuries. Those people don't make as much progress with their therapy.
Greg Schiano has received a lot of negative press during the past few years, but Eric tells Joe about the kind of man he really is. Eric says Coach Schiano treats him like a son and has been a tremendous help to his entire family since Day 1 of his injury.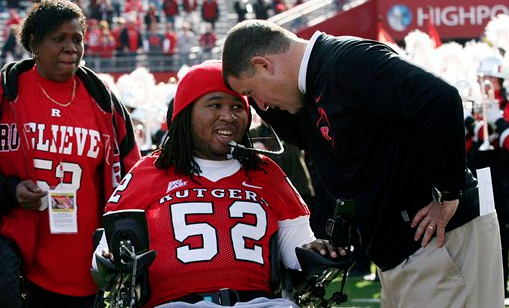 Joe asks Eric how he's been able to stay so positive and prevent himself from having a "why me" attitude. Once again, Eric talks about his mother's lesson of being appreciative for what he "has", instead of focussing on what's been taken away. He realizes that his current situation could have ended up much worse, and he uses that to keep an incredibly positive attitude. This attitude has led him to never take anything for granted.
The show concludes with an amazing tip that listeners can apply to their everyday lives, in order to stay positive and keep things in perspective. Eric and Joe talk about asking yourself the question, "compared to what?" whenever you're pissed off or stressed out about a situation. Next time you're stuck in traffic or late for an important meeting and you start saying, "This sucks"…"Bad things always happen to me"…"I have the worst luck"… Ask yourself, "Compared to what?"
We hope Eric motivated you as much as he motivated us. If so, please show your support to Eric and Team LeGrand by donating to his foundation HERE.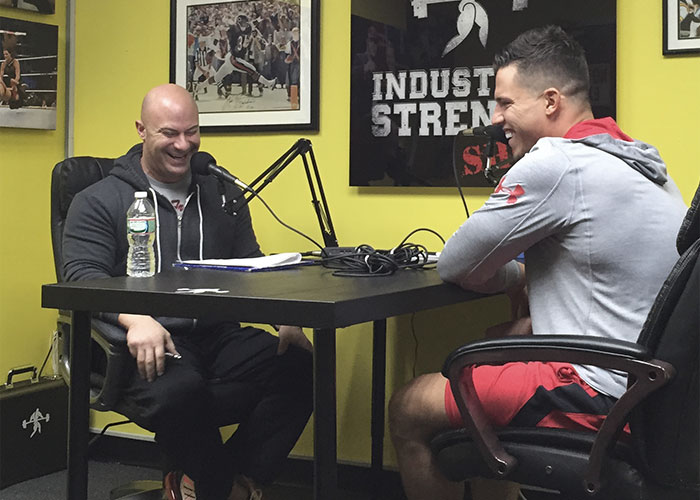 Thanks for listening!
Do you have feedback, questions or suggestions for the podcast?
Click here to send us feedback
Wanna become a SPONSOR? Click here to get started
Like the show? If you LIKED the show, we would truly appreciate it if you can take 60 seconds to give us "5 Stars" and write a short review (1-2 sentences is fine) on iTunes. We appreciate it!
-The Industrial Strength Show team