Q: Joe i've been checking out the youtube videos of Rob Leibrock you have been posting lately – the dude looks like a animal! I have two quick questions for you – do you have rob on a hybrid of WS4SB or is he on a completely different program? Also what weight class does he fight in, he looks huge!! Any insight on what you do with fighters would be greatly appreciated coach.
Pete M. from Delaware
PS – I'm a follower of your website since 2003. Watching your success as both a performance coach and entrepreneur has been a huge inspiration for someone like me who is in the process of switching careers and opening my very own warehouse gym. Thanks for setting the standard.
A: Thanks for the feedback Pete…I'm glad my website and gym has been an inspiration to you. That type of feedback always means a lot to me.
As far as Rob's training is concerned; we are not using any variation of the WS4SB template at this time due to his specific goals, genetics and his large volume of grappling training. Anyway, when Rob came to our gym, his main goals were to improve his grip strength and what I like to refer to as "power endurance" – without gaining too much weight. FYI, Rob's one of those lucky bastards that adds muscle very easily when he lifts. (Isn't it crazy how all the guys that DON'T want to get "too big" are usually the ones with the freaky genetics?? Life isn't fair LOL!) Rob's competing in the 202 lb. division at the Pan Jiu-Jitsu No Gi Championship in NYC on October 3rd. On average, he grapples twice a day, everyday and his grappling style is fast-paced and very aggressive!
After our initial "sit down", we decided that two sessions a week at my gym would be plenty for Rob. For the past couple of weeks, these two sessions have consisted of 3-6 "rounds" of various "non-traditional" strength movements, performed repeatedly, with minimal rest between "rounds". This is because Rob's next tournament will consist of 3-6 matches (each match has a 6-minute time limit if it goes the distance) performed back to back to back, etc. In other words, if you win a match and progress to the next round; you literally get back on the mat within minutes. The nature of this tournament, coupled with Rob's relentless grappling style, has dictated the type of training we're doing. Without getting into specifics regarding all of our "indicators", I can tell you that Rob's ability to perform explosive activities repeatedly, without losing power, has gone through the roof!
I obviously won't give away Rob's entire program on this public forum, but I will provide our readers with one of Rob's actual workouts from last week (when we started tappering…FYI, "tappering" for Rob is much different than the average human.) This will give you an indication of the type of condition this dude is in. He performed the workout below after two hours of grappling an hour beforehand.
"ROUND 1"
1A. Drop-set chain push-ups (80lbs x 10, 60lbs. x 10, 40lbs. x 10, 20lbs. x 10, BWx40)
1B. Hand-over-hand 'banded' rope pulls – 5 "reps"
*Rob performed 1A & 1B back-to-back with no rest. Then he rested 60 seconds and performed the superset again. (See video below.) Once he finished his 2nd round, he rested 60 seconds then went right into "Round 2".
"ROUND 2"
2. Kettlebell Complex (Reverse lunges x 10ea leg, shoulder press x 10, swings x 10, jump squats x 10, Figure 8's x 20sec)
*Rob performed this complex two times in a row with just 45 seconds "rest" between each complex. (Check out the video of the 1st set of this complex below.) After the 2nd set of this complex, Rob rested 60 seconds and then went right into "Round 3".

"ROUND 3"
3. Prowler sprints – *10 "trips" with 45lb. plates on each side, 30 sec. "active rest" between each trip

*1 trip = sprint 20 yards holding low handles and then immediately grab the poles and sprint 20 yards back to the start line. "Active rest" consisted of jumping around, shooting, etc.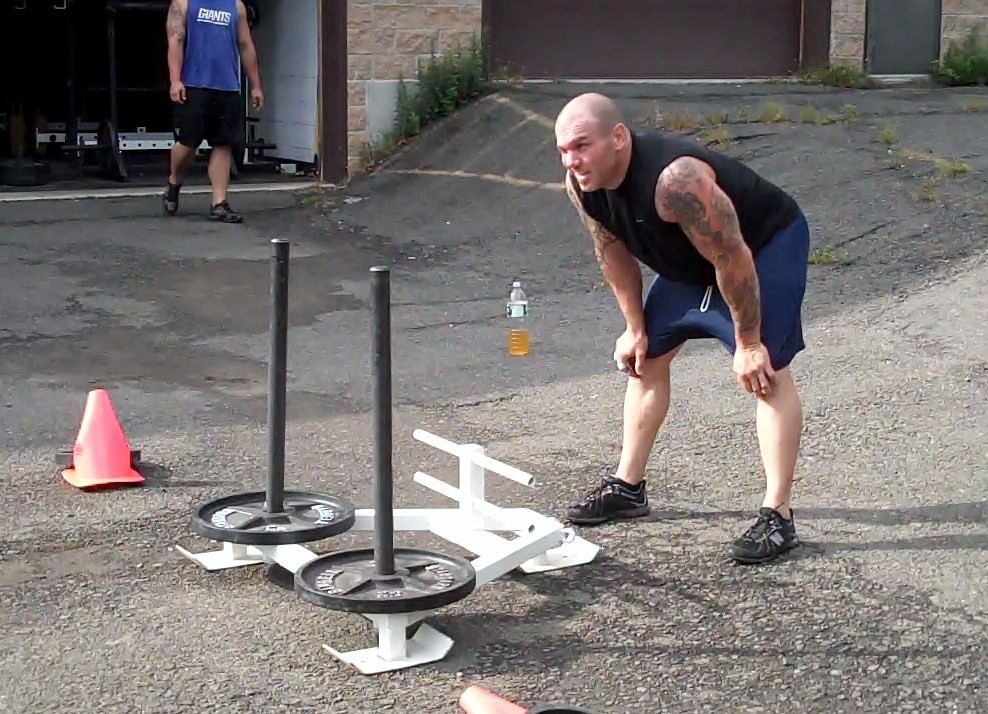 "Beast vs. Beast"

"ROUND 4"
4. Rickshaw Holds (thick handles) –We finished off this workout with some extra grip training. Rob performed 2 sets of max time with 220lbs. on the Rickshaw. He rested 60 seconds between each set.

I'll keep everyone posted on this beast's progress!
-Joe D.
Q: Can you list the 30 best motivation songs which can be heard in your gym?
Ivan
A: Ivan,
You are one of about fifty emails I've received over the past couple of months regarding the music we play at my gym. I had no idea that people were so interested in what our athletes listen to when they train! But, as I've stated time and time again, I believe that music is a powerful stimulant and motivator…so maybe supplying a "DeFranco's Training Playlist" will bring some 'DeFranco-esque' intensity to workouts all over the world! Adding this playlist to your ipod can be your way of becoming a part of our gym, without actually being in New Jersey!
Although it's difficult to narrow down our playlist to just 30 songs (because they're constantly changing), I'll give you 30 songs that have been "staples" at our gym during the past couple months. (I also thought you'd find it interesting to know who listens to what…so I provided a few of our popular athlete's/coach's favorite max-effort songs at the beginning of the list.)
Here's your 30-song, Team DeFranco Playlist…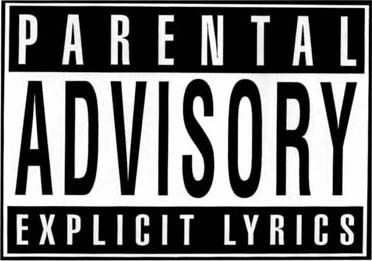 I Get Money – 50 Cent (Donald Brown, Indianapolis Colts)
Intro – DMX (Deon Anderson, Dallas Cowboys)
Lord Give Me a Sign – DMX (Mike "The Asshole" Guadango)
Throw it Up – Lil John & Pastor Troy (Mike "The Asshole" Guadango)
Things Done Changed – The Notorious BIG (Brian Cushing, Houston Texans)
Hustlers Ambition – 50 Cent (Brian Cushing, Houston Texans)

This is War – Ill Nino (Joe DeFranco, Rob Leibrock)
Kickstart My Heart – Motley Crue (David Diehl, NY Giants – You gotta love BIG Dave bustin' out the 80's hair bands!)
Can't Be Touched – Roy Jones, Jr. (Jeff Carr)
Ladies and Gentlemen – Saliva (Jeff Carr)
Tryna' Make a Jug – Gorilla Zoe (John "Jersey Jackal" Impallomeni)
Hate Me Now – Nas (Joe DeFranco)

All the Above – Maino
Be Me – Maino

I'll Whip Your Head Boy – 50 Cent & Young Buck

I'm an Animal – 50 Cent
Get Up – 50 Cent
Bulls on Parade – Rage Against the Machine
Put On – Young Jeezy & Jay-Z
Bodies – Drowning Pool
La Liberation of our Awakening – Ill Nino

Points of Authority/99 Problems – Jay-Z & Linkin Park
Go to Sleep – Eminem

Lose Yourself – Eminem
Till I Collapse – Eminem
I Will Be Heard – Hatebreed
No Easy Way Out – Rocky IV
Thunderstruck – AC/DC
Pain & Torture – Jadakiss
Down with the Sickness – Disturbed

If those songs don't get you good and pissed off before a workout or event, nothing will! Now go load up that ipod!

-Joe D.

Q: Joe,
Can you please add some more of the camouflage shirts to the store? I am kicking myself for missing the first batch. Please put some more up, it's not like they wouldn't sell.
John E.
A: John,
I'm one step ahead of you bro! I actually got a brand new batch of camo tees in last week. Unfortunately, I've been engrossed in finishing our "Built Like a Badass" ebook. (We're working our asses off to get this program done. Every free second I get, I work on the ebook…so I haven't sent the camo t-shirt product info to my webmaster yet.) But I assure you; there are boxes of camo tees sitting in my home office closet that are ready to be shipped!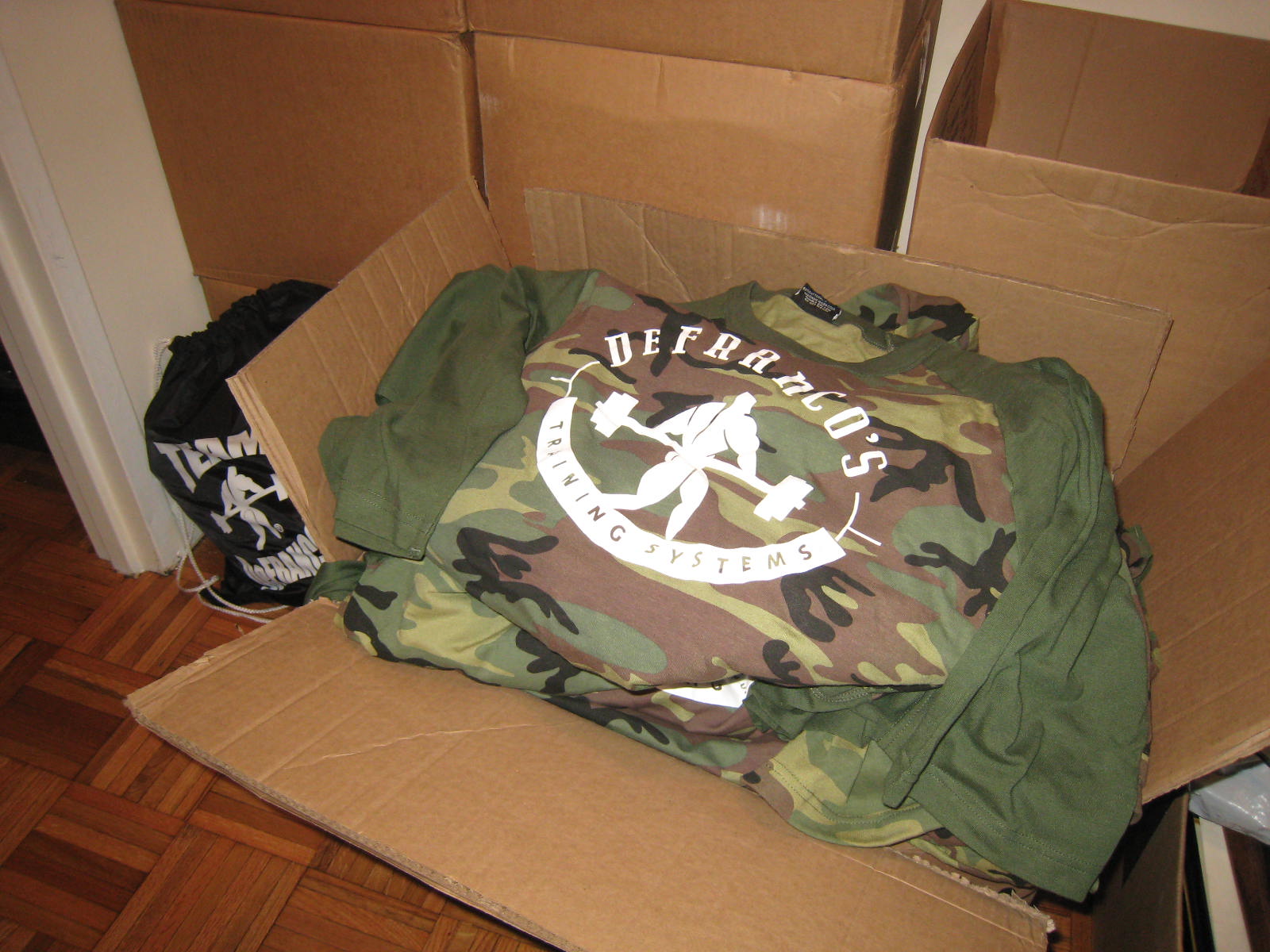 I changed things up a bit and got 3/4 length sleeves with this batch. I think they are cool as hell…they really accentuate the forearms!
They are not loaded up on our STORE page yet, but they will go up soon. Keep checkin' so you don't miss out again!
-Joe D.
Q: Cant wait for the new program…been doing ws4sb washed-up meatheads template for more then a year…Will it be similar or inspired from ws4sb or something totally new….Also are you going to include some stuff about nutrition??
ps please more of those quick q/a ..fun read!
Danny

A: Danny,
Our "Built like a Badass" Program is a completely different animal from our WS4SB Template. Don't get me wrong, there are definite similarities between the two programs, but I would categorize the "Badass" Program as a 'distant cousin' of WS4SB, not a 'twin brother'. The "Badass" Program is basically geared towards "washed-up meatheads" who want to look muscular and athletic, without living in the gym. The way we developed this program was inspired by the physiques of UFC fighters, NFL running backs/wide receivers and Olympic sprinters. All these athletes possess very lean, muscular physiques, without performing "bodybuilding-type" routines in the weightroom. The goal of our "Badass" Program is to bring the "athletic" look back to the washed-up meathead/Average Joe community!

I gotta tell you; I haven't been this excited about a program since I published the original "Westside for Skinny Bastards" article. When I decided to write that article, I knew it would be much more than just another article/training program. Although training programs and fitness fads come and go, I knew the WS4SB Program was going to stick around for a long time for three main reasons:
#1 – It was tested on thousands of REAL athletes for years before I decided to publish the article
#2 – It was simple to understand & PRACTICAL
#3 – The program WORKED!
Our "Badass" Program also fulfills the "Big 3" that I've listed above…with the exception that it is even more practical due to the fact that every single exercise in the program can be performed at even the most average of gyms!

Now you may be saying to yourself, "Aren't all articles and training programs tested before they're published? Don't all programs work? After all, why would someone publish a workout that he/she isn't sure if it works or not?"
Most people would be shocked if they knew how much bullshit there is out there! Trust me, I know first-hand about a bunch of "big names" in this industry who don't train anybody, yet every couple of weeks, they are coming out with new programs and articles that make outrageous claims! This is one (of many) things in the "fitness industry" that drives me nuts!!
I feel comfortable saying that we train more people per square inch than 99.9% of the gyms out there. With our volume of people comes a lot of experimentation and experience. Like our WS4SB Program, our "Badass" Program was tested and re-tested before we scratched our heads and said, "Damn, we have something here…this system is pretty damn effective for everyone who tries it!"

I appologize for going on a tangent; but I wanted to share with everyone why I'm so pumped about this program. I also wanted to assure everyone that we are working our asses off in order to get this ebook done as quickly as possible. FYI, this is the main reason that I haven't updated the blog as often as i would like during the past couple of weeks; I've been spending my "free time" working on different aspects of the ebook. I can't give an exact date as to when the ebook will be for sale, but I will tell you that we are getting very close.
Oh yeah, as of right now, it looks like we will be providing some sample meal plans in the ebook…..and I DO plan on doing a lot more "quick" Q&A's on this blog once the "Badass" ebook is completed. I received a lot of positive feedback about my last (quick) Q&A.
OK, lemme go finish this ebook so I can get back to regular posting again!
Be back soon…
-Joe D.