Episode # 385
My Top 11 Hacks for Gettin' JACKED!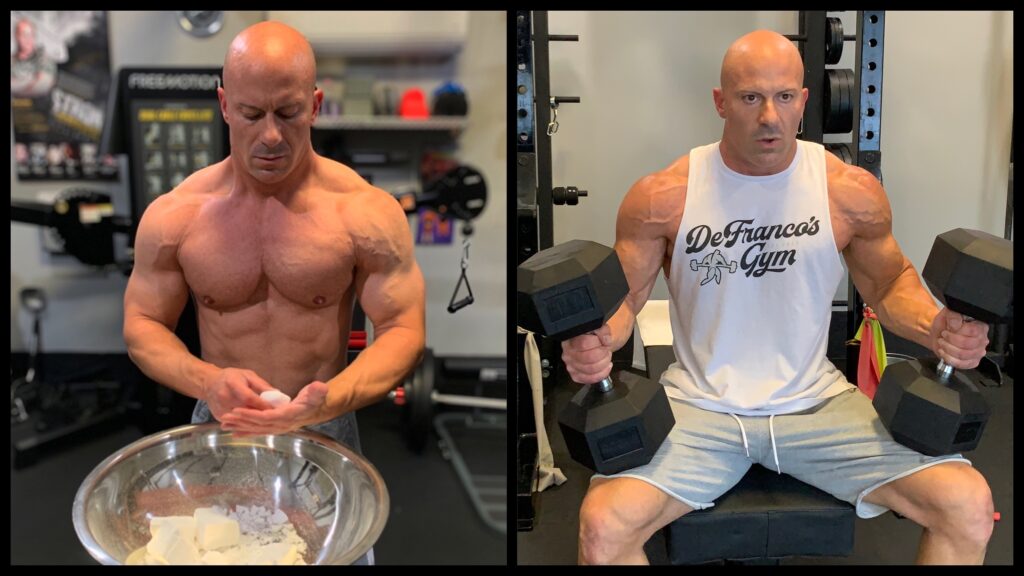 Released on September 8, 2022
SHOW NOTES & TIMESTAMPS
0:00 – Show intro | Joe apologizes for his stupidity during last week's intro 🙂
3:30 – Joe announces the winner of a 4-month supply of Tyrofeine & new DeFranco's Gym hoody!
5:00 – Joe announces this week's "MuscleUpSeptember" supplement sale!
6:30 – CPPS Ohio course announcement!
7:45 – The SWIS Symposium is coming to America…and Joe D. will be presenting a "Sled Training Master Class"!
11:50 – Podcast begins…
14:20 – Joe reads the email that prompted today's show topic: Top Hacks for Getting Jacked!
17:45 – HACK #1: Eat 1g of protein per pound of bodyweight (or lean body mass), spread out over 3-5 feedings
27:40 – HACK #2: Eat your carbs!
30:40 – HACK #3: Drink 1/2 your bodyweight (in ounces) of water each day…with a pinch of sea salt
37:40 – HACK #4: Get 7-9 hours of quality sleep each night
50:10 – HACK #5: Drink a protein shake after breakfast and/or dinner
54:45 – HACK #6: Warm up thoroughly before training; DON'T use your first exercise as your "warm-up"
58:30 – HACK #7: Improve your cardiovascular fitness!
1:05:40 – HACK #8: Never train through pain! ["Pain is inhibitory"]
1:08:40 – HACK #9: Lighten the load & focus on the "mind-muscle" connection
1:10:50 – HACK #10: SLOW DOWN the eccentric (3-5 seconds on most lifts)
1:14:10 – HACK #11: Do the opposite of what you're currently doing!
1:17:40 – *BONUS HACK: Take THIS supplement to get jacked!
Important Links from the Show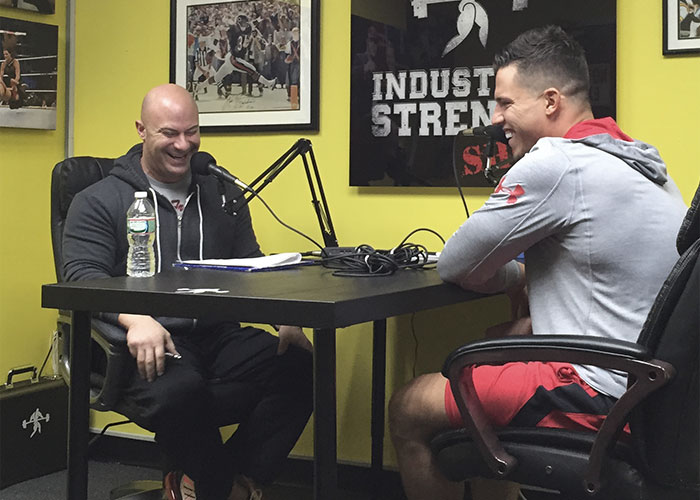 Thanks for listening!
Do you have feedback, questions or suggestions for the podcast?
Click here to send us feedback
Wanna become a SPONSOR? Click here to get started
Like the show? If you LIKED the show, we would truly appreciate it if you can take 60 seconds to give us "5 Stars" and write a short review (1-2 sentences is fine) on iTunes. We appreciate it!
-The Industrial Strength Show team