Episode # 54
The 17-Year Timeline to DeFranco's "Overnight" Success

Released on March 24, 2016
In this week's special 2-hour edition of the Industrial Strength Show, Joe D. takes his listeners through his "timeline of success". This timeline reveals the most important decisions, events and dates that have had the biggest impact on making DeFranco's Gym what it is today. Taking this "trip down memory lane" will give aspiring personal trainers and gym owners a behind-the-scenes look at what it really takes to "make it" in the fitness industry. You will quickly realize that there is no such thing as an "overnight success".
Joe concludes the show by sharing his "Top 8 Business Rules" for success in any industry!
SHOW #TIMESTAMPS
08:35 – Joe reads the question that lead to this weeks podcast topic
19:05 – Joe begins his "timeline of success" by talking about his first internship and job
22:50 – Joe creates "DeFranco's Training Systems, LLC" and opens his first storage closet "gym"
24:55 – Joe launches his website and starts his weekly "ASK JOE" Q&A
29:00 – Joe releases his first product – a VHS tape entitled, "Mastering the Football Combine Tests"
33:50 – Joe's first major online interview entitled, "The Pro-Maker" is posted on T-Nation.com
35:25 –  Joe writes his first article for T-Nation.com entitled, Westside for Skinny Bastards: A modified lifting program for Hardgainers. The article/program becomes one of the most popular training programs ever written.
41:00 – Joe moves his gym out of the storage closet and into a warehouse that he can finally call his own
46:00 – Miles Austin's agent hires Joe to prepare Miles for the NFL Combine
56:35 – Joe releases his 2nd product, "Super Strength DVD" and it rapidly sells out to an international audience
63:00 – DeFranco's Youtube channel launches with a video entitled, "Guadango 54 inch Box Jump"
66:35 – The story behind the STRONG documentary
70:10 – Brian Cushing is drafted in the 1st Round of the 2009 NFL Draft
71:40 – Joe moves into his 5000sq ft dream facility 
72:00 – Men's Health magazine names DeFranco's Gym one of America's 10 Best Gyms
73:45 – Tim Ferriss features Joe in an entire chapter of his NY Times best-selling book, "The 4-Hour Body"
76:20 – A WWE wrestler by the name of "Paul Levesque" calls DeFranco's Gym to inquire about training with Joe
84:30 – Onnit CEO Aubrey Marcus pitches Joe the idea of opening a DeFranco's Gym in Austin, TX 
90:05 – Joe's Top 8 Business Rules for success in any industry!
114:20 – Joe announces this week's contest/giveaway – Learn how to win a FREE pair of custom "DeFranco Strong" Fat Gripz! 
Important Links from the Show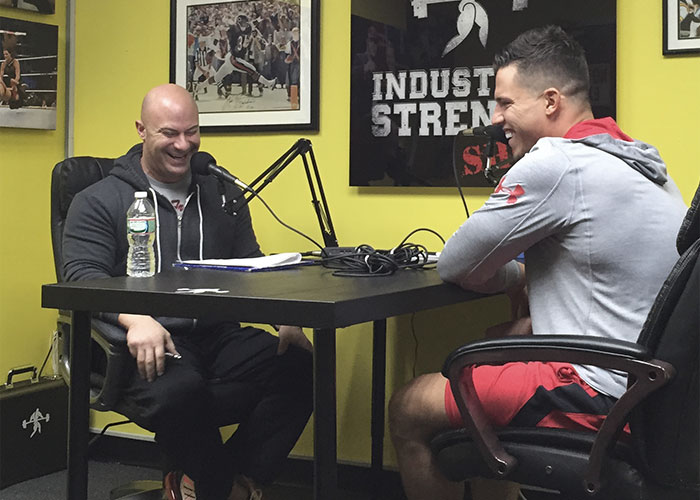 Thanks for listening!
Do you have feedback, questions or suggestions for the podcast?
Click here to send us feedback
Wanna become a SPONSOR? Click here to get started
Like the show? If you LIKED the show, we would truly appreciate it if you can take 60 seconds to give us "5 Stars" and write a short review (1-2 sentences is fine) on iTunes. We appreciate it!
-The Industrial Strength Show team