Episode # 39
Donnie Thompson talks Strength, Mobility, Fatbells…and his cold, hard "Ex-Wife"!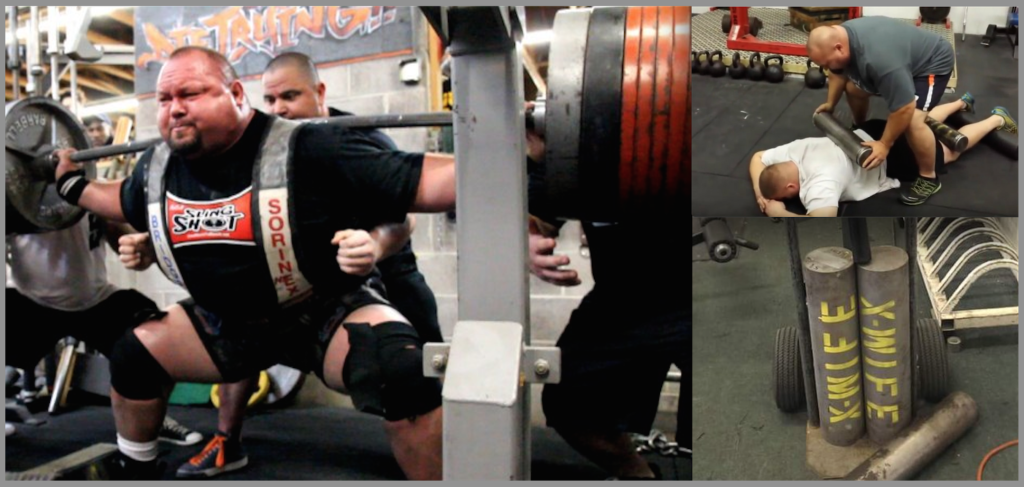 Released on November 25, 2015
In this weeks episode, Joe interviews Donnie Thompson – the first man to ever total 3000 pounds in a powerlifting meet! Besides being one of the strongest men on earth, Donnie is also an innovator and trendsetter in the Strength & Conditioning industry. He's the creator of the Thompson Fatbell (a "kettlebell-like" implement with the handle re-positioned inside the bell), the Thompson FatBar, and the Thompson FatPad. But the "creation" that just may stand out more than all the rest is Donnie's "body tempering" technique. After meeting Donnie in Toronto and going through a "body tempering" session, Joe D. wanted to learn more from the man they call "Super D"…  so he sat down with Donnie during this weeks podcast and discussed a wide array of topics.
Here's just a few of the things that Donnie discussed with Joe:  
What it feels like to have over 1200 pounds on your back!
How Donnie shrunk almost a full inch in height after his record-setting squat (and how long it took him to regain his height)
Why you always need to leave the gym thinking, "I could have done more." 
The "benefit" of having an annoying 13-year-old girl hanging out at the gym [and bothering him] while he was training [FUNNY STORY]
HOW Donnie originally came up with the "body tempering" technique and WHY it works so well

How to prevent yourself from ever getting a "sports hernia"
How/where you can obtain your own body tempering "tools" [without stealing Donnie's ex-wife 🙂 ]
Can foam rolling still be beneficial or should you completely remove it from your warm-ups/workouts?
Find out the major similarity that Donnie shares with Jill Miller and what it means to YOUR health and well-being

What the hell can these two have in common? (Besides being two of my favorite people 🙂 )
The importance of creating a network and surrounding yourself with people "smarter than you" in other disciplines
The #1 thing ALL female athletes should do to improve their performance and decrease their injury potential
The 2 things that every guy should do in order to increase their performance and decrease their injury potential
 Why EVERYONE should suspend upside-down for a few minutes each day
Donnie discusses the difference between "wisdom" & "understanding" and how each can affect your training/results
Donnie talks about how his idea for the "Fatbell" came to him in a dream!  [Learn why having your hand placed dead-center in a sphere creates less stress on your joints, while placing a greater emphasis on your muscles. ]

All this plus much, Much MORE!
Important Links from the Show
Taming the Dragon in your Lower Back [video link]

In this video, Donnie shows you exactly how to hang upside-down and mobilize the hips / relieve low-back pain. NOTE: At 6min 13sec into the video, Donnie demonstrates the "butt walks" he spoke about on the podcast.

ThompsonBarbell.com

Official website of Donnie Thompson.

Rogue Thompson Fatbells

Official link to the revolutionary creation Donnie discussed on the podcast -- a "kettlebell" that has the handle re-positioned INSIDE of the bell. THE RESULT (according to Donnie) = "A perfect geometric shape for maximizing optimal performance."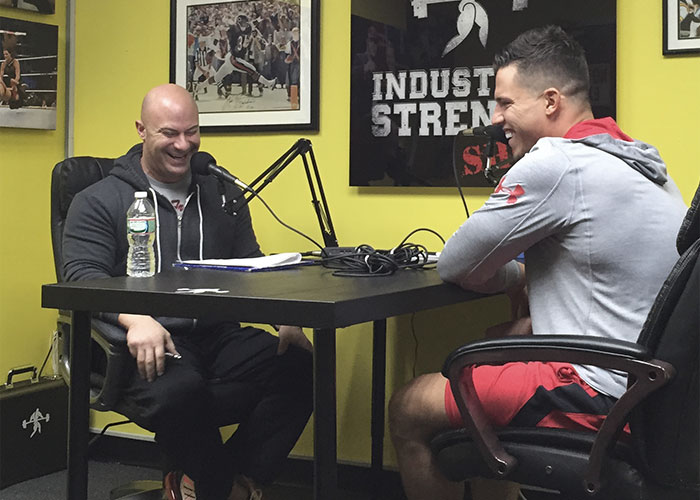 Thanks for listening!
Do you have feedback, questions or suggestions for the podcast?
Click here to send us feedback
Wanna become a SPONSOR? Click here to get started
Like the show? If you LIKED the show, we would truly appreciate it if you can take 60 seconds to give us "5 Stars" and write a short review (1-2 sentences is fine) on iTunes. We appreciate it!
-The Industrial Strength Show team