Episode # 46
Epic Vertical Jump Q&A

Released on January 14, 2016
In this weeks episode, Joe answers questions specifically directed towards improving vertical jump performance. Below you will find a list of the topics covered during this show…
#TIMESTAMPS
00:10:10 – Joe reveals the simple test that will help you troubleshoot the "weak link" in your vertical jump
00:22:20 – Joe's "skinny calf theory" gets challenged by a listener!
00:31:35 – Volume recommendations for jumps and plyos
00:39:35 – Biggest plyometric training mistakes
00:46:15 – Joe D's Top 5 dynamic-effort strength exercises for improving the vertical jump
01:01:00 – Joe D's personal experience using isokinetic machines for power development
01:05:00 – The theory behind static stretching your hip flexors [before testing your vertical jump]… plus a new "pre-jump" stretching recommendation!
01:11:45 – Analyzing your Box Jump performance compared to your Vertical Jump performance
01:17:05 – Is it possible to make significant improvements in vertical jump height or is it mainly genetic?
———————————-
Drop me a comment below and let me know what you thought of the show!
Do you have a vertical jump question that didn't get answered on today's podcast? If so, you can post your question in the comments section below as well. [If I get enough questions, I'll do an "Epic Vertical Jump Q&A – Part 2"  for you guys 🙂
-Joe D. 
Important Links from the Show
POWER DVD

The most comprehensive DVD ever created on the subject. If you're looking to improve your vertical jump [and overall explosive power] this DVD is for you! **Includes over 90 power-producing exercises**

Dynamic-effort Bulgarian Split Squats w/ bands

This was one of Joe D's "Top 5 dynamic-effort strength exercises" that he revealed during the podcast.

Band-resisted Kettlebell Swings

Quick video clip showing the set-up and execution of another one of the exercises Joe discussed during the show.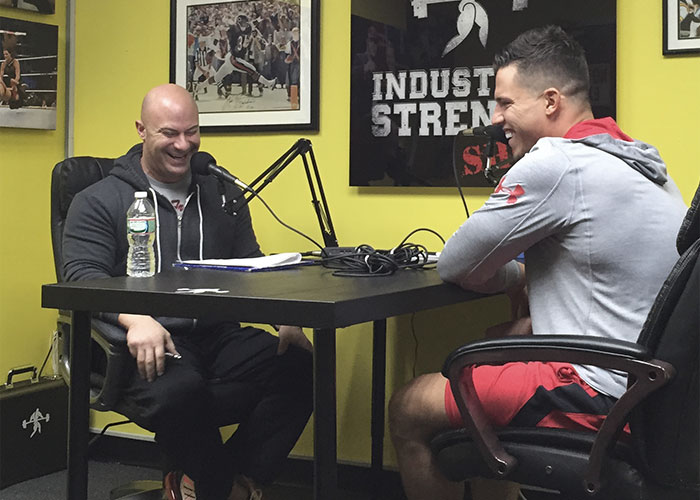 Thanks for listening!
Do you have feedback, questions or suggestions for the podcast?
Click here to send us feedback
Wanna become a SPONSOR? Click here to get started
Like the show? If you LIKED the show, we would truly appreciate it if you can take 60 seconds to give us "5 Stars" and write a short review (1-2 sentences is fine) on iTunes. We appreciate it!
-The Industrial Strength Show team