Episode # 25
How to use Chains for Massive GAINZ!

Released on August 20, 2015
In this weeks episode, Joe addresses a topic that's long overdo – How to [properly] use chains in the weightroom. Contrary to what many Personal Trainers believe; the chains at your gym were NOT put there for you to throw over your shoulder and take douchebag Instagram selfies. They actually serve a greater purpose. In fact, they serve many greater purposes!
During this podcast, Joe explains…
How & When he first heard about using chains in the weightroom
How to properly set up the chains to "accommodate resistance" [Most people do it WRONG!]

Why attaching chains to the barbell works better with exercises that have an "ascending strength curve" 

How "accommodating resistance" with chains leads to greater strength, hypertrophy & power gains

Why beginner & intermediate athletes SHOULD occasionally train with chains
Why you should be incorporating chains into your rehabilitation programs [This little-known application can have a profound effect on speeding up the recovery process]
When should you replace your traditional weight plates and dumbbells with chains?
Advanced chain application for "chaos" training
The difference between training with chains vs. bands
And much, Much MORE!
Check out the podcast companion video below. In this video, Joe explains and shows exactly how to set up the chains properly…
Hope you enjoyed this weeks podcast!
Feel free to drop me a comment below with any questions, comments or feedback you may have. I'd also love to get your input on future show ideas! What would you like me to discuss on the podcast next?
 -Joe D.  
Next weeks guest = Dr. Rhonda Patrick  (Ph.D in Biomedical Science. Nutritional health, brain & aging expert.) 
Important Links from the Show
Criss Cross Chain Push-ups video [Strip set from HELL]

This is a DeFranco's Gym CLASSIC! I mentioned "strip-set chain push-ups" during the podcast and this video came to mind. I thought you guys may enjoy watching a young Mike Guadango get pushed to the limit by Dallas Cowboys fullback (and cRaZy bastard) Deon Anderson. It was truly a classic moment in the gym's history :)

EliteFTS.com

This is where I purchase my chains.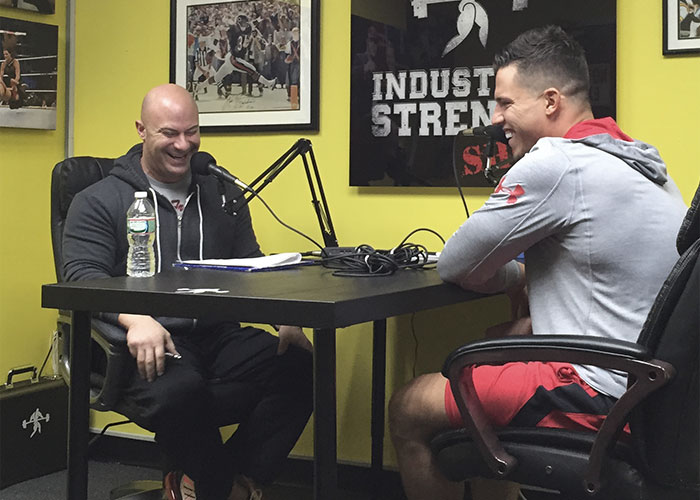 Thanks for listening!
Do you have feedback, questions or suggestions for the podcast?
Click here to send us feedback
Wanna become a SPONSOR? Click here to get started
Like the show? If you LIKED the show, we would truly appreciate it if you can take 60 seconds to give us "5 Stars" and write a short review (1-2 sentences is fine) on iTunes. We appreciate it!
-The Industrial Strength Show team