The Pat Cole Story
By
Joe DeFranco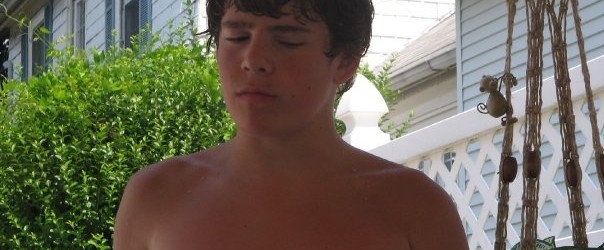 Four years ago, a 150-pound, self-proclaimed "skate punk", walked into our facility looking to get bigger and stronger so he could play high school football. But, truth be told, the first couple months of training weren't exactly "focused" for Pat Cole. Maybe it was the immaturity of being an 8th grader (and one of the youngest athletes in our gym); or maybe things just hadn't "clicked" yet for the young man.
Enter Coach John Impallomeni.
A couple months into Pat's training, I set him up with a different trainer – John Impallomeni. John really focused on teaching Pat proper form in our "foundational" exercises – box squat, bench press, deadlift, chin-ups and box jumps – rather than just letting him "go through the motions". According to Pat, as he started learning how to lift properly – and seeing progress – he began to "want to come to the gym more and more."
After about a year of working with John and taking his training seriously, Pat's physique and strength really started to transform. But it was at this time that Pat received some devastating news from his doctor during a football physical; Pat's doctor informed him that he had a leaking aortic valve and playing football would not be a "healthy choice" for his heart.
Turning a negative into a positive
Instead of "hanging up his cleats" and giving up, Pat decided to take up track & field – more specifically, the shot put. His best throw during his freshman year was 43 feet; this was considered a "pretty good" start for Pat. But, "pretty good" wasn't good enough for Pat Cole. He wanted to be the best. So he decided to totally engross himself in the sport and train specifically for the shot put. In less than one year, he added over 10 feet to his best throw! (He threw 53' 02" as a sophomore.) This was also the year his best box squat went from 275 lbs. to 405 lbs.! Check out the videos below…
Pat Cole squats 275 X 2 as a freshman!
Pat Cole squats an easy 405 on his 16th Birthday!
There is a good lesson to be learned here for all coaches and trainers; I feel one of the keys to Pat's success in the gym during this critical year of training was John's focus on proper form, as opposed to implementing fancy programs. Way too many coaches look for "quick fixes" and fancy programs during the early years of an athlete's training. Focusing on exercise form – as well as getting stronger in the "foundational" lifts – will build the best foundation for young athletes. Pat is living proof of this.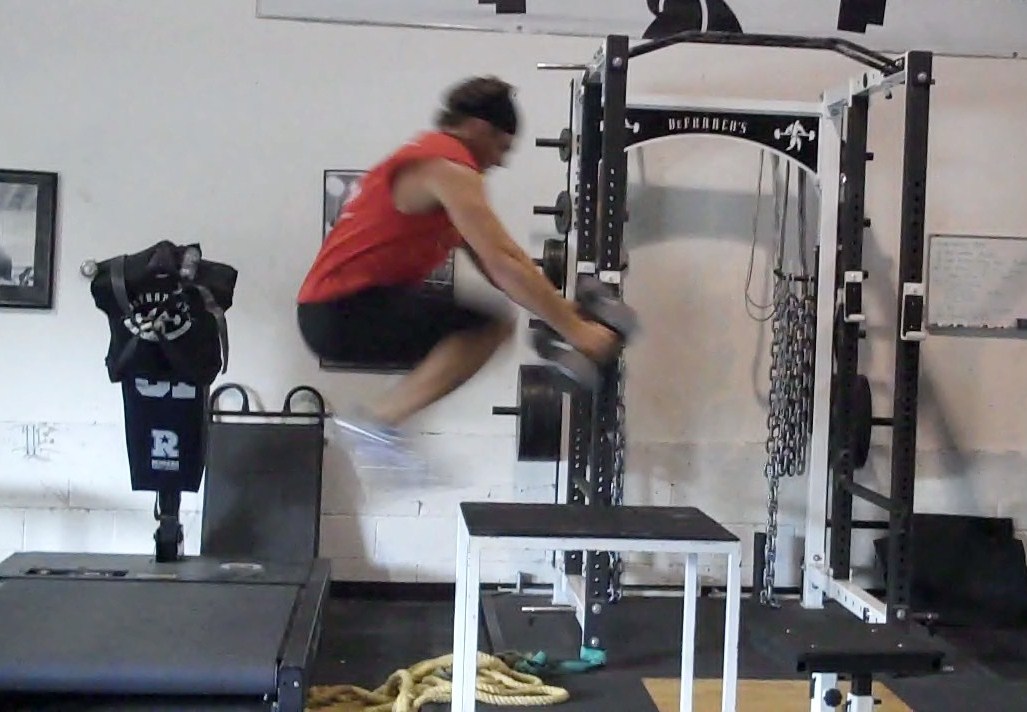 Once Pat developed a base level of strength, John started adding more jumps and throws, as well as specialty barbells for squatting (safety bar & cambered bar are staples) and some strongman-type exercises into Pat's program. Speaking of Pat's program, here's an inside look at Pat's Lower Body Strength Workout from last week:
1. Weighted Box Jumps, holding DB's: 5×3 (Worked up to 35" box, holding 35lb. DB's)
2. Cambered Bar, Low Box Squats (12" box): Worked up to 430 x 1!
3. Prowler Sprints: 6 X 15 yards
4. Barbell Russian Twists: 4 X 10 each side
*Pat's program changes from week to week, depending on track meets, technical training, traveling, etc. He usually performs Upper/Lower training splits, although Full Body workouts are also used when he can't get to the gym two or more times in a week.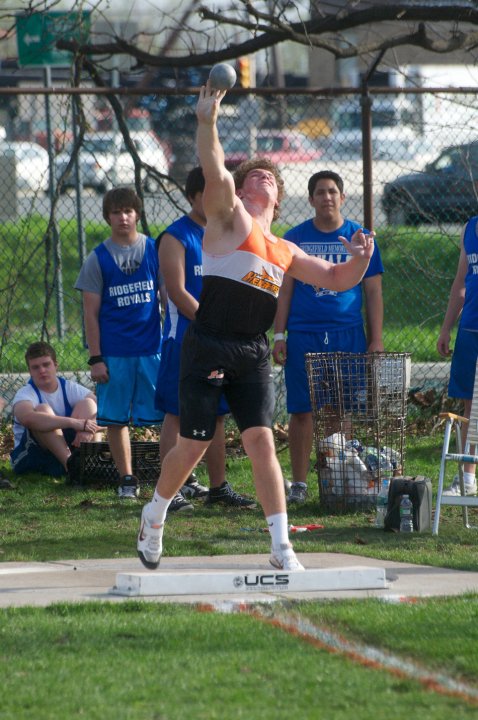 This type of training has been a recipe for success for Pat. He added another four feet to his PR from the previous year with a 57' 03" throw this year as a high school junior! Going into his senior year, Pat's resume includes the following:
1st Team All-County – (Indoor & Outdoor Shot put)
4-Time Group 1 State Champ (2 indoor, 2 outdoor)
6th Place Finish at prestigious Penn Relays
Pat Cole – Penn Relays
Power of the Internet
Pat is currently being recruited by major Division I Universities throughout the country; he has his "on-field" performance and work ethic to thank for that. But, I wanted to add a note to this article for all the coaches, trainers and gym owners who are reading this; one of the things that Pat's dad informed us has been a huge help in the recruiting process are the YouTube videos we've posted of Pat. In fact, a major BIG 12 University contacted Pat after seeing his 405 squat video and they are making a house visit this month! The Cole family couldn't be more excited.
YouTube videos allow college coaches and recruiters to see how athletes train when "no one is watching." This just may be the "x-factor" for a coach/recruiter that has two athletes graded equally on the field, yet he/she only has one scholarship to offer and needs something to separate the athletes. An athlete's off-field work ethic or physical strength just may be the "x-factor" that separates one athlete from another. So even though posting videos may mean "more work" for you, it just may help one of your athlete's get a scholarship or get recognized by a college that otherwise would have never known about him/her. And let's be honest, having a "Pat Cole" representing you and your facility for the world to see, won't exactly hurt business.
-Joe D.
——————–
**For those interested, Pat will be competing in the High School Division of this year's World's Strongest Athlete Competition! Although Pat was the youngest of all the competitors in the HS Division last year, he still placed in the Top 5. This year, he's looking to take home the title! This is only one (of many) interesting storylines that will be played out at this years event! Don't miss it! Even if you're not competing, you can still come out and support the competitors and the charity! For more information, goto www.WorldsStrongestAthlete.com!